Playing What If…
Like many authors, I was often accused as a child of having an overactive imagination. (This won't surprise anyone who knows me.) So even before I was writing stories down, I was playing with concepts in my head, mostly after bedtime and before I fell asleep. What if there were vampires on spaceships? What if the family from Lost in Space actually found another planet actually inhabited by nice people? What if I met a cool guy and later discovered he was actually a prince? Okay, I'll admit, most of my what-if's even then, involved romance.
When Steampunk started appearing in SF, I loved the concept. What if the Victorians had robots? Perfect. Mind you I always loved Wild, Wild West (the old Robert Conrad TV show, and later the Will Smith movie.) The whole dark, depressing dystopian thing, though—not really my speed. I also loved the movie Van Helsing, right up until the end. Why the heck couldn't his love have lived? What if she had?
So eventually, I decided I had to write a Steampunk romance. The whole concept was just too darned much fun. And vampyres—had to have those. What about some street kids and a plucky, upper-crust governess? Introducing the Order of the Round Table is all my husband's fault, really. When I asked about a group that would protect England from supernatural threats, he said, "What if the Round Table never went away—they just went underground?" See, he's good at what if, too. Hence the book that started life as Mary Poppins meets Van Helsing—with robots. NOT the title I sent to my editor, of course.
I'd love for you to check out Steam & Sorcery, the first in my new Gaslight Chronicles series, which debuted yesterday from Carina Press. To celebrate the new release, I'm running a contest. Comment on any (or all) of the blogs I visit on my blog tour this week. One entry per person, per blog stop. You can visit my blog to find the other stops. After the final stops on Sunday, March 13, I'll draw one winner for a free download of Steam & Sorcery, or their choice of my other available titles. Happy Reading!
ABOUT THE BOOK: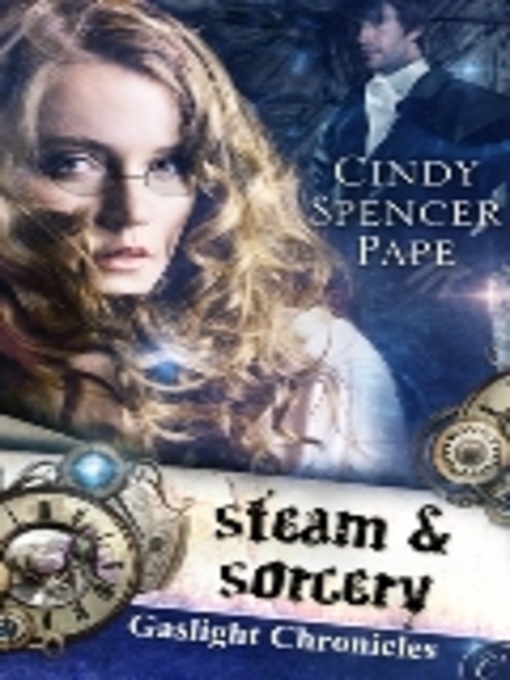 Steam & Sorcery
Gaslight Chronicles #1
By Cindy Spencer Pape
Buy here from Carina Press
Sir Merrick Hadrian hunts monsters, both human and supernatural. A Knight of the Order of the Round Table, his use of magick and the technologies of steam power have made him both respected and feared. But his considerable skills are useless in the face of his greatest challenge, guardianship of five unusual children. At a loss, Merrick enlists the aid of a governess.
Miss Caroline Bristol is reluctant to work for a bachelor but she needs a position, and these former street children touch her heart. While she tends to break any mechanical device she touches, it never occurs to her that she might be something more than human. All she knows is that Merrick is the most dangerously attractive man she's ever met—and out of reach for a mere governess.
When conspiracy threatens to blur the distinction between humans and monsters, Caroline and Merrick must join forces, and the fate of humanity hinges upon their combined skills of steam and sorcery…
ABOUT THE AUTHOR
Cindy Spencer Pape is an avid reader of romance, fantasy, mystery, and even more romance who firmly believes in happily-ever-after. Married for many years to her own, sometimes-kilted hero, she lives in southern Michigan with him, two grown sons, and an ever-changing menagerie of pets. Cindy has been, among other things, a banker, a teacher, and an elected politician, but mostly an environmental educator, though now she is lucky enough to write full-time. Her degrees in zoology and animal behavior almost help her comprehend the three male humans who share her household.
Website: http://www.cindyspencerpape.com
Blog: http://cindyspencerpape.blogspot.com/
Newsletter group: http://groups.yahoo.com/group/cspapenewsgroup/
Twitter: http://twitter.com/CindySPape
Facebook: http://www.facebook.com/#!/profile.php?id=100000270304390