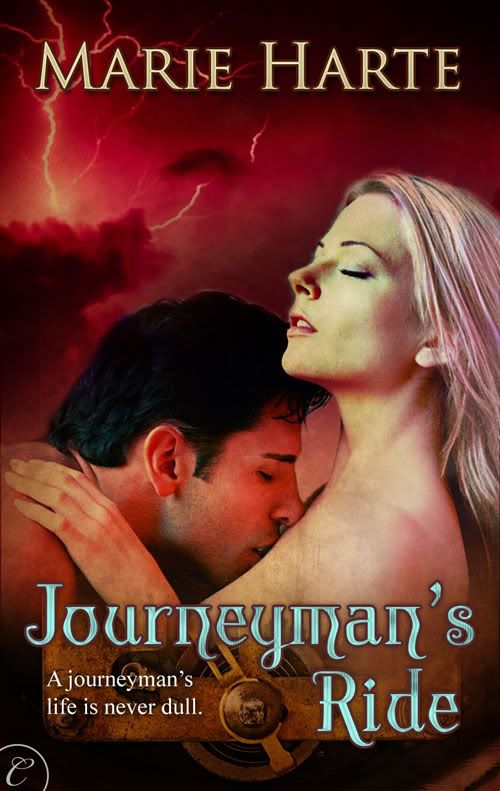 Tenacious. Persistent. Driven. A trait my characters and I share in common. Then again, I've been called bullheaded too, but tenacious sounds so much nicer.
Before my acceptance with Carina, I'd published books with several well-known, small press romance publishers. When Harlequin decided to throw their hat in the ring and enter the age of digital publishing as well, I was ecstatic. They were coming to my world.
I'm a heavy romance reader and have been since I was twelve. Long ago, I'd cut my teeth on Silhouette Intimate Moments (SIM) books—now Harlequin Romantic Suspense. I devoured titles in groups of twos and threes. To this day, I still have a few Linda Turner (The Wild Wild West), Heather Graham Pozzessere, and Alicia Scott (The Guiness Gang) books on my keeper shelves. The SIM books always entertained with a hint of danger, romance, and when I was lucky, something paranormal, like ghosts or psychics.
I ventured into single title reads, looking for futuristic or paranormal stories with strong heroines. When I couldn't find any that suited my taste, I started writing my own. So six years and nearly fifty books later, I felt pretty confident to send my work in to Carina.
Only to find my story rejected. Ouch.
I licked my wounds by tucking that story aside—a contemporary romance I will no doubt visit again—and worked harder for my other publishers. But I couldn't shake my desire to be published with Carina. Their covers were stellar, their stories terrific, and I knew a few of their editors by reputation. (A good thing, in case you were wondering.) I'd make them accept me though sheer persistence…once I had the right story, of course.
A few months went by, and I continued to write for my other houses. I'd written a steampunk romance with fantasy elements. A book that didn't seem to fit in anywhere, but hey, it was fun to write. I tried another publisher, but they wanted me to add another twenty thousand words and change the storyline. No going. And then that pull to Carina re-surged. I had planned to publish with the company come hell or high water, even if it took me the next twenty years. The worst they could say was no. They'd done that already and I'd lived to tell the tale.
I subbed Journeyman's Ride to Carina and put the story out of my mind. Weeks later, low and behold, they liked it!  I received my first phone call ever from a publisher telling me they wanted my story. (All the other publishers correspond with yeses and noes by email.) I was thrilled. My assigned editor seemed really nice.
And then I got my first round of edits. (Insert evil eye at Alissa.)
The story needed work, but it would also stay my own because my editor shared my vision for it. I consider myself very lucky that my editor is as great as she is, because she polished the heck out of the story, and I couldn't be more pleased by the result. (So thank you, thank you, Alissa, for not only your insight, but your patience. *Big grin*)
Like me, the heroine and hero of Journeyman's Ride are persistent. Miranda is driven to find freedom. Danner continues to work day after day to help those less fortunate. Not because it's his job, but because it's the right thing to do. Of course, he's not exactly nice while doing it, and his attitude leaves much to be desired.
In the course of their relationship, Miranda and Danner have to handle a lot of unpleasant truths, blood ravens, annoyed gods, rampant lightning, predatory beasts, and a mechanical spyder or two. But along the way, they'll find their happy ending. Much like I did, because none of us gave up.
Journeyman's Ride is a piece of fiction. My publication with Carina is not.
Lessons I learned from not giving up:
Just because one publisher/editor likes you doesn't mean they all will
Persistence pays off
Writing outside the box is not a curse, but a gift
I should continue to listen to my friend when she tells me to stop whining, suck it up, and keep writing
Lessons Miranda learned by not giving up:
The gods do exist, and they're closer than one might think
Sometimes mothers lie
Western men make incredible lovers
Longtooths might be pretty in a picture, but the vicious felines aren't very friendly
Lessons Danner learned by not giving up:
Easterners might be a pain, but they sure do come pretty
The blood ravens haven't yet driven him mad, but watching Miranda day in and day out might
The woman has secrets to rival his own
Love really is worth its weight in gold
Happy reading, and enjoy steampunk week!