Coming Out to My Parents as a M/M/M and BDSM Author
I'm extremely lucky. My parents have always been very supportive of everything I do, no matter how wild, crazy, or non-traditional.
I should back up a little and tell you that my parents are Romanian. Eastern Europeans are known for pushing their children down a certain path to success, and my parents were no different. They wanted me to work hard in school, get good grades, and become a doctor or a lawyer. But when I turned 18 and announced I was engaged to a man I'd only known for 3 months and planned to marry 2 months later, it became clear that maybe, just maybe, their plans for me wouldn't work out quite the way they'd hoped.
They were remarkably accepting and supportive of my marriage. (It helped that I married the most amazing man, and they adored him from the moment he first walked into their house.) A few years later when I announced I was dropping out of University (I later went back and finished my degree), they were fine with that, too. And when I told them we'd chosen not to have children, they were once again completely supportive of our decision, despite the fact that I'm an only child and had just effectively ended their hopes of ever holding grandbabies in their arms.
Despite all that, when I took them out for dinner a couple of months ago to tell them I'd quit my well-paying job to write full time, I was a little apprehensive. Surely, this would be the one decision they wouldn't support. It wasn't. They were delighted I'd chosen to follow my passion. They'd always encouraged my writing under my other pen name, even going as far as to buy all my books and display them in a special bookshelf in their living room.
When dessert arrived, I had one last thing to confess: the title and theme of my upcoming Carina Press debut. Even my husband shifted nervously beside me as I swung the topic of conversation back around to my newest contract.
"Mom, Dad… I write gay erotic romance threesomes with themes of bondage, dominance, and submission."
I blurted that out as soon as the waiter had walked away, and mostly muttered it under my breath.
My mom spoke up first. "I hear there's a market for that."
And my jaw dropped. You see, my mother had been following the publishing industry enough to understand that M/M erotic romance was a new and exciting niche, written by women, for women. She was intrigued, and wanted to know more. My dad didn't ask too many questions, but he made it clear they were both very proud of me.
I went home floating on cloud nine. Knowing I have the support of my husband and my parents as I chase an artist's dream means the world to me.
Have you ever had to admit something to your parents that was potentially embarrassing or may have been hard for them to accept? How did it go?
To celebrate the release of Paradise Found, I'm giving away a $10 gift certificate to Amazon.com. Just leave me a comment below, and I'll draw the winner's name at random.
* * * * *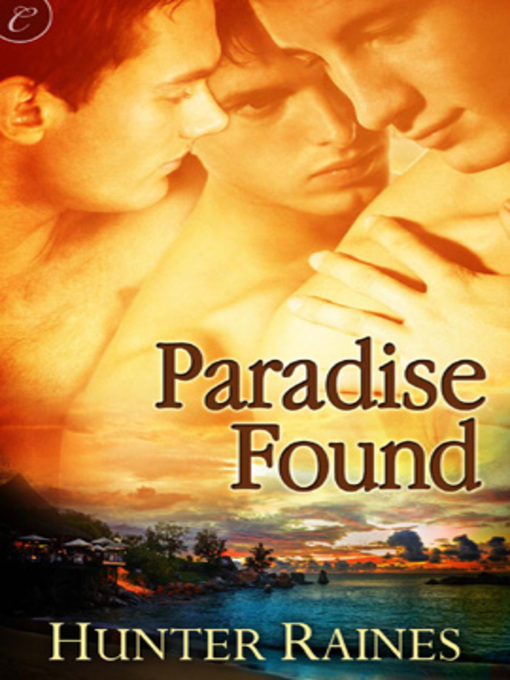 Paradise is just an illusion…
Or so Philip thinks as he vacations on exotic Anguilla. He should be celebrating the end of law school and the start of his successful career, but he's tired of living a lie for his family's sake. For just one night, he lets down his guard with two men he thinks he'll never see again.
He isn't the only one with secrets. For years, Cameron Drake has suppressed his need for dominance, afraid of hurting his lover, Mark Wilder. But when Cameron's hand meets Philip's ass, there's no more pretending. Mark can't face his conflicting feelings about the ménage; does Cameron want more than Mark can give?
The three of them may have been perfect together but consequences follow them back to their real lives. Will their desire for another encounter shatter the illusions they've built to protect themselves or clear the obstacles to paradise?
Now Available at Carina Press.
"In addition to great sex, Raines depicts likable characters and intriguing personal relationships… I would definitely recommend Paradise Found to anyone who enjoys the gay romance, ménage, or dom/sub genres." – Lisa Watts, Fresh Fiction
* * * * *
About the Author
Hunter Raines is the author of numerous short stories and novellas, and holds an Honors B.A. in English Literature. When she's not working or writing, she can be found curled up in her library of more than four thousand books, or playing video games with her husband. Find her on her
website
, 
Twitter
, and 
Facebook
, or join her
Yahoo Group
.