My name is Rita and I write books about extraordinary women and the men they love. Yesterday Carina released my debut book, Under Fire, about a Coast Guard Helicopter pilot who works with an undercover DEA agent to find her brothers killer. I have a smokin' hot cover to match my story. Life is good. I am beyond excited.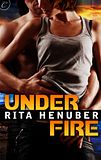 When talking about my book the question I'm asked most often is how I came up with this story. My daddy was Coast Guard and most people think it was because of that. It wasn't. Here's the real scoop. I'd signed up for an Art class at the local Jr. college and was cruising other classes. A beginning romance writing class caught my eye. I can do that easy! It was an online class, even better. I signed up and right off the instructor asked everyone to give a brief summary of their plot. Huh? You need a plot? Hmm… maybe this wasn't going to be as easy as I thought. Plot? Plot? Think.
I was watching the Kevin Costner movie The Guardian on HBO and a Coast Guard helicopter, a big silver and orange one, was circling the area.( I live in Florida near the beach.) Okay. Heroine is a helicopter pilot in the Coast Guard chasing the bad guys. From there the people living in my head took over, told me the story and here I am. The story grew and morphed with each writing concept I learned. The only thing that didn't change was who my heroine is. I was stubborn and held on to everything about the character right down to her nickname, Jake. That's right, Jake. Most pilots have nicknames so why shouldn't she? My instructor and mentor said it wouldn't fly. Pun intended. I kept it. My agent said it wouldn't fly. I kept it. Did I mention I'm stubborn? I was not going to do it unless it came from an editor.
Well, it did. My lovely editor, Gina, very gently and with great skill told me why Jake had to go. And boom piff it was gone. There is another reason behind me keeping the name as long as possible. I would discuss the story ad nauseam with a friend. Her darling husband felt left out and wanted to read it. I said okay. He read maybe the first 50 pages. He loved Jake and the story. So much so, while at the bank one day he saw a women who looked like he envisioned Jake. He walked right up and proceeded to tell her about the book his friend had written and she looked just like the heroine and so on. His wife and I had a good giggle over that. I was quite touched that Jake had become so real to him and how excited he was to read the finished book.
He died before he could. Somehow holding on to the name as long as I could was honoring the faith he had in the story. Today she goes by her given name, Olivia, but I always think of her as Jake.
Under Fire is on sale now with Carina Press.  WARNING: Reading Under Fire will cause an intense need to read more books with strong heroines.
Visit me at my web home  http://ritahenuber.com
On facebook http://on.fb.me/o0pQxX
And twitter @rithhenuber