BOO!
I've always been fascinated with the paranormal and Halloween has always been my favorite holiday. As a kid, I was glued to my television set to watch Barnabas Collins on Dark Shadows. As an adult, it was Buffy the Vampire Slayer. Now it's Wolf Moon. Vampires, werewolves, ghosts–the preternatural creatures we emulate at Halloween have always set my imagination ablaze. My favorite Halloween costume ever was the one I made to haunt Rush Street bars as Maleficent, a wicked dark fairy from the Disney movie Sleeping Beauty.

I was so excited when I set out to write my first romantic urban fantasy, HOT CASE, for Silhoutte Bombshell. Detective Shelley Caldwell had to deal with vampires and with her own proclivity for the supernatural. I couldn't wait to write more stories about her, but Bombshell was cancelled. So I wrote a short story, HOT CORPSE, for Avendia Publishing (now available in digital formats), and another, HOT NOTE, for Thriller 3 to be published next summer by Mira Books. Imagine how thrilled I was to be able to bring Shelley back in another novel–HOT TRICK, my October Urban Fantasy Thriller for Carina Press.
About HOT TRICK:
Detective Shelley Caldwell's career as a Chicago homicide detective is complicated by her city's supernatural underground, her abilities as a sensitive and her half-vampire lover, Jake DeAtley. Meeting a crazy banshee with visions of someone drowning in a trunk, Shelley ignores the warning—until famous illusionist Sebastian Cole escapes from a locked trunk submerged in the Chicago River, while across town a woman drowns in the trunk of a car. Then another victim is found killed in circumstances eerily similar to another of Sebastian's performances.
Shelley is certain there's a link between the magician and the murders, and it's unsettling that Sebastian invades her mind and stirs her senses. Not to mention Jake's negative reaction to the man. Can Shelley fight off Sebastian's supernatural influence to determine if he's the killer…or another victim?
When I wrote both HOT CASE and HOT TRICK, I did personal research on being a Chicago homicide detective. One of my former graduate students at Columbia College Chicago (where I teach Writing Popular Fiction and Suspense-Thriller Writing) is a suburban police officer. And his buddy and workshop partner is a lieutenant in the Chicago Police Department. In addition, at the time I was volunteering at Lincoln Park Zoo, and the officer assigned to the beat gave me some great stories I could use, as well. Nice to have the right connections. Nice to be able to develop a character who seems real as well as entertaining. Who makes me keep wanting to revisit her world.
I love my Detective Shelley Caldwell character. She's the cop who keeps getting the woo-woo cases, and um, doesn't want to believe in the supernatural. She also doesn't want to be thought crazy, so she keeps the paranormal underground secret, whether it's vampires or mages or demons or sirens. Shelley's internal conflict about everything paranormal–including her lover–is what makes writing about her fun. I love exploring what makes a character most uncomfortable, what gives the biggest bang for the conflict buck. And with Shelley, it's that love-hate thing when it comes to the paranormal. She has that fear that there's a monster in her.
Do I really believe in the paranormal? Part of me obviously wants to.
For more than a decade, my critique group has gone to Lake Geneva several time a year for writers' retreats. One of the members has a house on the lake. We'd been staying there for several years when I walked into the kitchen and heard the owner talking about the ghost. Um, GHOST? Yep, the house was haunted. Several people had independently seen a man walking between the living room and the staircase–right outside my bedroom door. And I was the only one on the first floor. The other bedrooms were upstairs. A late night person, I started going to my room two hours earlier than I normally would and locking my door because that's when everyone else was going to bed. And I didn't come out until daylight.
I never saw that ghost or any other, but I know they're out there…
Do you have an interest in the paranormal? Has anything spooky happened to you?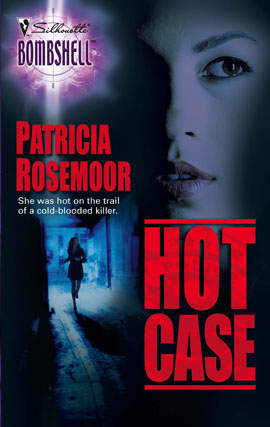 Everyone answering will be eligible for a prize determined by a drawing–a signed paper copy of HOT CASE, the very first Detective Shelley Caldwell story.
With more than 6 million books in print, PATRICIA ROSEMOOR has written 89 novels for Harlequin, Silhouette, Carina Press, Del Rey, HarperCollins and Dell. RT Book Reviews honored her with two Career Achievement Awards and two Reviewers' Choice Best Intrigue Awards for her Harlequin Intrigues.
https://www.facebook.com/PatriciaRosemoor
http://twitter.com/#!/PRosemoor