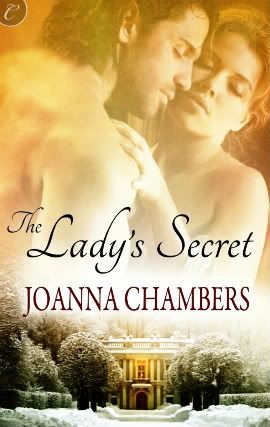 Hello!  Gosh, what a thrill to be blogging here, at the Carina Press blog about my first book, The Lady's Secret.
Do you like secrets?  That feeling of being in on something just delicious? I particularly love readerly secrets.  You know, when the author tells you, the reader, something that the characters haven't quite worked out yet?  And you get to see them fumble towards the truth and it's just so richly enjoyable?
Here's my hero, Nathan, on secrets:
"Do you like secrets, Harland?"

"Don't all gentlemen? We are certainly good at keeping them."

"Are you? Do you think gentlemen better at keeping secrets than ladies?"

Until last night, he'd have cheerfully replied that ladies had many admirable qualities but that the keeping of secrets was not one of them.

"I would not make such a sweeping assumption," he said instead. "But it is true that gentlemen are excessively fond of secrets. Or at least I am. Of discovering them most especially."

The Lady's Secret
Oh, The Lady's Secret is just bursting with secrets!  Let me tell you about some of them:
Secret #1: The heroine's secret identity
My heroine is Georgy Knight, a failed actress turned glorified stagehand who dresses as a man and calls herself George Fellowes to take a post as Nathan's valet.
Secret #2: The secret marriage
The reason Georgy undertakes this risky masquerade is to gain entrance to a country house party that the Nathan, is due to attend.  There she will search for evidence of her parents' marriage to prove she and her twin brother Harry are legitimate and that Harry is the true Earl of Dunsmore.
Secret #3: Georgy discovers her role has its compensations…
When Georgy dresses as a man she gains entrance not just to Nathan's private apartments, but also to his most intimate moments. As a manservant, Georgy has ample opportunity to look at Nathan.  And she very much likes the way he looks… Yum!
Secret #4: …Nathan discovers he likes being the subject of her attention…
On the outside, Nathan is a sleek, self-confident aristocrat.  But inside he's always longed to be wanted for himself rather than his wealth and title.
Secret #5: …And in the end it turns out that…
Oops!  I'd better stop right there!  Some secrets are best not revealed.
What about you?  Are you good at keeping secrets or hopelessly indiscreet?  And what's your very favourite fictional secret?  Or your own best-kept one?
Find Joanna Chambers at her author website, her reader blog Isn't It Romance?,  on Twitter (@ChambersJoanna) or Facebook.