Feeling a little nostalgic
Someone asked me not too long ago what my favorite theme was to read in books. Hmmm, tough one. I'm a sucker for anything paranormal, suspense or fantasy. Honestly, I'll give pretty much anything a try, but favorite favorite?
One of my earliest memories is of watching Cary Grant's "His Girl Friday" curled up in my mother's lap one night when I was sick. I couldn't have been more than seven or eight at the time, but the hook of a handsome reporter and his whip-smart female partner exchanging witty repertoire while they sniffed out the facts must have taken root in my young mind and set my preferences for all future reading and viewing.
Call me old-fashioned, but that's one storyline I absolutely love above all others — the simple premise of a reluctant hero and heroine teaming up for an investigation — and giving each other a little hell in the process. Yep, I'm a product of my youth, when I spent waaaay too much time with my head buried in books or my eyes glued to the TV. It probably all started with my set of Nancy Drew and the Hardy Boys books, but then again, I still get giddy whenever I see a Scooby Doo marathon on TV. I absolutely adored "Remington Steele," and how could I ever forget making a mad dash home from high school every day to watch my favorite daytime supercouple Jack and Jennifer on "Days of Our Lives" – two reporters who got into all kinds of fun trouble together snooping out the truth in Salem. Shhh, don't tell anyone, but in college, I cared more about watching "Lois and Clark: The Real Adventures of Superman" and "The X-Files" than I did partying or, God forbid, doing homework. Yes, I was a total geek, and yeah, still am. For the record, these days, I'm totally in love with "Castle" on ABC, and have you read any of Marie Force's The Fatal Series? Great stuff!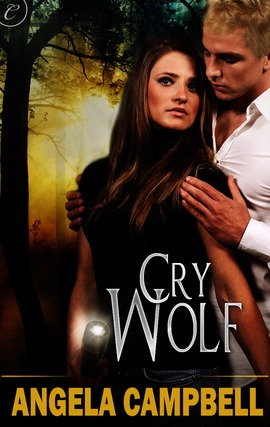 My debut release with Carina Press, Cry Wolf, is my own nostalgic homage to that "His Girl Friday" type of story, with maybe a little bit of "The X-Files" sprinkled in for flavor. My hero and heroine, Sean and Andrea, are reporters trying to prove whether or not a small-town urban legend is a hoax while fighting their own animal attraction in the process.  I had tons of fun writing it, and I hope anyone who reads it enjoys it too.
What about you? What's the one theme you just can't seem to resist when it comes to reading? Leave a comment below and you'll be entered to win a copy of Cry Wolf along with a $10 gift card to Amazon. Thanks, and good luck!
Cry Wolf is now available through Carina Press. You can find out more about Angela Campbell and her debut novel at www.angelacampbellonline.com. Follow her on twitter @angelacampbel.