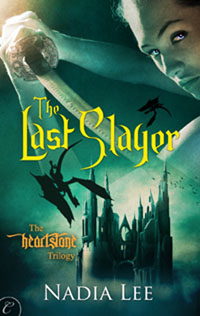 If you look at the acknowledgments page of The Last Slayer, you'll find a reference to Magic and Mayhem Writers. It's a group blog of four new paranormal romance and urban fantasy writers: Amanda Bonilla, Shawntelle Madison, Sandy Williams and yours truly. I can't tell you how much I adore them… but maybe a shameless plug will suffice. You should check out their ever-so-awesome debut titles: The Shadow Reader, Shaedes of Gray and Coveted.)
In any case, that acknowledgments page was added at the very last stage of editing. By this point, I'd read The Last Slayer at least twenty times; my husband, the ever-reliable Hero Material, had read it at least a dozen times, and my editor had been over it five or six times as well, for developmental editing and line editing. This isn't counting beta readers, of which there were several. Thanks to my various readers, editor and the copy editor (who said that it was one of the cleanest manuscripts she'd ever seen), I was confident that the book just had to be error-free when I turned it in to be formatted into epub. I know, I know — the rule is that every manuscript has a typo or two, no matter what. But let's not be boring, dahling… that was for other authors, not pour moi.
A few weeks later, I got an email from my editor. She said the proofer who had been reviewing the converted book found something that looked like a typo and wanted to check with me. Naturally, I held a perfumed hankie to my lips and suppressed an ever-so-slightly-superior tinkle of laught–
It turned out that I misspelled Shawntelle's name! I'd added an extra n by mistake and written her down as "Shanwntelle Madison" on the acknowledgments page. Talk about embarrassing!
Thankfully, I was able to correct the error before the book was finalized.
I'm red-faced enough about this whole situation as it is, so none of you go out and tell Shawntelle about it, okay? Let's just keep it our little secret.
The Last Slayer is now available from Carina Press. Get a DRM-free epub or a Kindle edition!
About Nadia


Nadia is a bilingual writer who likes to read, eat, travel and enjoy life. She lives in Japan with her husband and baby boy.
Visit Nadia on her website nadialee.net.
Stay Connected with Nadia
Sign Up for Nadia's Newsletter
Like Nadia on Facebook
Follow Nadia on Twitter
Follow Nadia on Tumblr
Add Nadia on Google+
Friend Nadia on Goodreads
Subscribe to Nadia's Blog
Tags: dragon, embarrassing typos, Nadia Lee, The Heartstone Trilogy, The Last Slayer, urban fantasy