The New Year is all about starting fresh, making anew. For many of us its about making goals for the upcoming year.  Resolutions, of a sort. I am a firm believer in making goals. I make yearly goals, monthly goals and sometimes daily goals, especially if I'm not getting my monthly goals done.  Over the years I've set goals and failed to reach them, and I wondered why.  I realized I wasn't setting proper goals. I was actually writing down wishes, or dreams, not goals.  Things like, making the USA Today list.  Well, that's something I don't have control over, and is not something I can measure.  So now I use this simple 5 step method to make my goals:
SMART
SPECIFIC – what?
MEASUREABLE – how much or how many?
ACTION ORIENTED – what's the result?
REALISITIC AND RELEVANT – is this something that makes sense?
TIME BASED – by when?
So now I can write down my goals with confidence and know that at least they make some kind of sense. *side note* I still have make USA Today bestseller list, but it is now in brackets. :)
And to get into the spirit of the New Year, here are Jovan and Skylar's (from my book League of Illusion: Legacy) goals for the new year: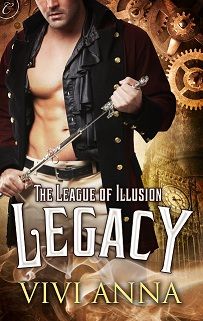 Jovan Davenport's Goals:
Perfect the invisibility spell
Avoid Lord Soren at all costs
Make more amends to Rhys
Learn how to pick any lock ever made
Take Skylar on an airship cruise to Africa
Skylar Vanguard's Goals:
Learn the art of necromancy
Get even better with a bo staff
Learn to make curare
Learn how to skrye in fire
Persuade Jovan to go on an airship cruise to Africa