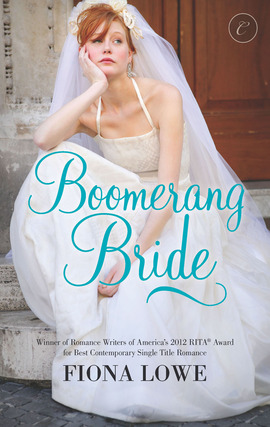 First, congratulations to the first author to snag a Rita nomination for Carina Press. Fiona Lowe is going to California to take part in the awards ceremony in July, for her contemporary single title romance, Boomerang Bride. We're so proud of Fiona, and her editor Charlotte Herscher, and we'll be cheering them on from the audience this summer! You can buy Fiona's book in print for a limited time on Harlequin.com or in ebook here at Carina Press, or your favorite third part etailer.
From Fast Company comes this clip from the book Unmarketing, and a warning for seven deadly sins of social media to look out for, including Wrath:
Wrath

One of the worst things about social media is the reactionary nature of it. Especially on Twitter, most of us don't think before tweeting and for the most part it's okay because most tweets are harmless, boring, and innocent by nature. But once in a while we react or lash out above our better judgment. It takes a thousand tweets to build a reputation and one to change it all. Twitter feels intimate sometimes, like you're on an episode of Friends, having a conversation with a few, except there are thousands "lurking" around. It's like having a harem of stalkers, without the creepiness.4

Being the object of someone's wrath is also common. For a full explanation on how to deal with trolls check out the section about them later in the book. But in a nutshell: Don't feed them. They aren't owed a reply, your time, or your emotions. You're better than that.

Wrath can be even worse when it is cloaked in the disguise of being helpful. This is usually done by the spelling freaks or grammar police. I admit that I do not always proofread what I tweet–I barely proofread a blog post and then usually only after I have posted it. Posting on my public comments and implying that I am a moron because I spelled something wrong isn't in anybody's best interest. It makes me feel stupid and it makes you look bad. I was taught back in my human resource days that there was one rule: Praise in public and reprimand in private. So I would say praise in public and assist in private. If I asked for help or feedback in a public forum, then fire away, but if the spell check is unsolicited, drop me a note privately. It is actually appreciated and makes you look even better. But beware of those who ask for feedback in public as well–they are usually looking for praise.
Read the rest of the article on Fast Company to find out the other 6 deadly sins, and how to avoid them.
Conference season is in full swing. In 2 weeks, we'll be heading to the Romantic Times conference in Chicago. I know some of you are pros at packing, but despite the rather significant number of times I get on a plane each year, I still always feel like there's another tip out there that can make my packing even easier. This week, I had this video and tips from author Erin Knightley shared with me. What's the new thing I learned? Hanging all of my dresses on one hanger. Why didn't I think of that!? She's got some fantastic tips. Check it out here.
Bonus video and thought for the day: This video from Britain's Got Talent has been making the rounds. It's really quite touching, and so beautiful, but I think there's a lesson in here for many of you out there reading this: if this young boy could face his fear of people, of crowds, of being ridiculed, and go on this TV program and succeed, why aren't you doing the same? Submit your manuscript, hit publish, query that reviewer you've been just a little afraid of…time to step up and take a chance!