Landscapes of a story
While researching the setting for DESERT BLADE, a near-future post-apocalyptic romance, I ran across something I'd never heard about before. Beneath the town of Leavenworth, Kansas, there's an "underground city". The recent rediscovery of it made some press, but on digging deeper, it turns out to be more like a series of a few connected basements. Possibly to hide escaped slaves or even fugitives. After all, Leavenworth was a part of the Wild West back in the day. Plenty of fugitives to go around.
Deciding the setting of a story is often a straightforward and automatic fit. Sometimes the landscape takes on a character of it's own. Such is the case in Desert Blade. When creating a post-apocalyptic world, the setting is a crucial element. In the early stages, the attraction of an underground city took hold of my imagination. I pictured secret meetings. Hiding in the dark. I pulled on my experience walking through Underground Atlanta, which is an old underground train depot that's now a mall. Then I found myself looking at malls in a new light. What might happen if an apocalyptic event happened and everyone in this mall, right now, became the only survivors for miles around? Or, maybe the subway. All the people riding in those cars go into them after work and come up to find the world changed? The setting would set the tone of the book and these setting lent a definite darkness to any story of survival.
But in the end, Desert Blade is about the land. The open spaces of the American mid-west. It's about what happens when bio-engineered food crops go horribly wrong and the entire face of the United States is changed. Showing that story couldn't happen underground. It needed to be out in the open and have a larger than life hero who needed all that space. And Derek is certainly larger than life.
Still, those landscapes keep living and evolving in the back of my mind and certainly may turn up in a future story. Because an underground city is such an enthralling concept for a story.
What landscapes have you seen that made you create a history or a future to fit it? Have you visited underground malls and created stories around what could have happened one hundred years ago on those same bricks now beneath your feet?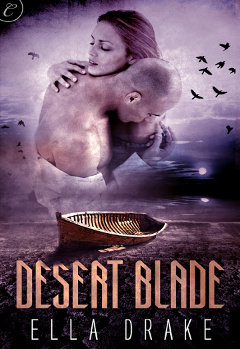 In the post-apocalyptic Midwest, now a ravaged dust bowl, former guardsman Derek Covington must find help for a sick boy. With nothing but memories of all he lost, Derek crosses the desert alone in search of the doctor who saved his own life ten years ago. Drifter gangs who loot and pillage don't dare come near, for Derek has a formidable weapon: a prosthetic arm with a deadly blade.
For a decade, Dr. Lidia Sullivan has fantasized about the handsome guardsman who'd been in her care. And now she can't deny his dangerous request. But as they make the treacherous journey back to Old St. Louis, they must contend with much more than fierce desert winds and their unthinkable attraction. A fearless gang has spotted Lidia—a rare woman—and will fight Derek to the death to get her. And though he risks his life to save her for the sake of the child who needs her, she fears there's one thing Derek will never risk: his heart.
Available from CarinaPress.com
***
Ella Drake is a dark paranormal and science fiction romance author. You can find her on Twitter, Facebook, & Goodreads.
For more Science Fiction Romance from Ella, see her other releases from Carina Press: Silver Bound and Jaq's Harp