I do adore a reclusive hero.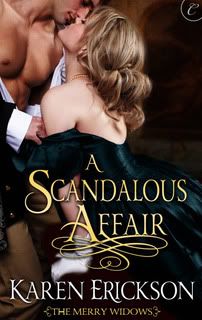 In my novella A Scandalous Affair (third in the Merry Widows series), the Marquis of Hartwell is merely misunderstood – and he prefers it that way. Afflicted with a speech impediment since he was a child, he's never quite been able to overcome it. So instead of facing constant humiliation while he moves amongst London society, he prefers to not speak at all. Which earns him the rather dark nickname of "Black Hart".
Of course, the handsome, brooding 'Black Hart' intrigues my heroine, Lady Pomeroy, to no end. Widowed and lonely, Daphne feels the first sparks of attraction to a man no one knows anything about. That doesn't stop her though. In fact, she's more determined than ever to discover the mysteries behind the facade she knows Hartwell hides behind. And soon, he's more than willing to share everything with her…
So tell me, do you find yourself intrigued by the reclusive, dark hero? Or do you prefer a man who's more open, with nothing to hide? Do tell.
~~~~~~~~~~~~~~~~~~~~~~~~
About A Scandalous Affair:
From the moment Daphne, Lady Pomeroy, meets the mysterious Marquess of Hartwell at a masquerade ball, she's determined to seduce him. The handsome, charming man cannot possibly be the cold, calculating lord who Society calls "Black Hart." Risking everything, the lonely widow invites the elusive Hartwell to her dinner party . . . for two.
Hartwell's arrogant reputation is built on a lie. For he has a shameful secret that keeps him in the shadows: a stutter—his downfall since childhood. He'd rather keep his mouth shut than look the fool. But he's shocked to discover that in Daphne's company—and in her bed—his stutter vanishes.
After one wanton evening together, Daphne is hurt when the lord lives up to his Black Hart name. Yet his reasons for leaving surprise even him. Now he must confess everything or risk losing Daphne forever…
You can find A Scandalous Affair at Amazon, B&N, All Romance eBooks and Carina Press.
* * *
Bestselling romance author Karen Erickson writes what she loves to read — sexy contemporary romance and sensual historical romance. Digitally published since 2006, she currently writes for  Carina Press and Samhain Publishing. A native Californian, she lives in the foothills below Yosemite with her husband and three children.
Find Karen on Facebook, Twitter and her website karenerickson.com.