Those pesky little details are so important in a book. At least they are to me. Get something wrong, and someone is bound to notice. I've tried to make that work in my favor—at least most of the time. The details I choose to focus on in my books are ones I've either researched to death or that I have personal experience with. I don't always get it right, but I try my best not to break reader trust. It means a lot to me, and I don't want to let anyone down. In IN HIS SIGHTS, for example, the hero and heroine are forced to flee through the wilds of Angola. During their trek, I incorporated some little details that I think make their journey more interesting:
1. Hammocks—We live in Brazil, so yes we have one in our backyard and use it often. Ours is a typical Brazilian hammock without the wooden spreader bars along either end. It takes up less space, since when it's not in use, it lies flat against the wall (as you can see from the photo of our little courtyard area). But this type of hammock is also trickier to sleep in. You can't just lie straight up and down—parallel to the lines of the hammock—or it'll roll up around you, trapping you in a fabric cocoon (remember, no spreader bar). So, in order to keep the hammock flat, you have to lie diagonally across it. And just like I mentioned in the book, it's amazingly comfortable to sleep on…or to just lie in the shade and read a good book. Our dog loves to jump up there with my husband for a quick snooze. Our house even has steel hammock hooks built right in to the walls—another detail I used in the book. When you want to use the hammock, you stretch it across the open area of the courtyard and slip the loops over the hooks.
2. Beiju—this is a type of crepe eaten in northern Brazil–only it's not a normal crepe. It's made with manioc flour, rather than wheat flour (manioc flour is sometimes called cassava or tapioca flour). Tapioca used for pudding is made from this flour. So, I learned how to make beiju from a Brazilian friend, and it seems there's quite an art to it. You mix water with the manioc flour until it's barely moist and still looks powdery, then push it through a sieve to get rid of any lumps. It doesn't stick together like normal bread dough would. Once you get the proportions right, you take the resultant powder and sprinkle it evenly around a dry hot skillet…and voila! The powder magically coalesces into a type of tortilla. You carefully flip it over to cook the other side. There is nothing better than a warm round beiju spread with butter and folded in half. Or wrapped around fruit. Or filled with Nutella. Mmmm! Google it, and you'll find all kinds of options.
3. Roar of a waterfall—In Brazil we have a huge set of waterfalls that I used as the basis for the waterfalls in my book. The multiple waterfalls cover a large semicircular area, and when you reach certain parts of it, the cascading water is so loud you can feel the vibrations in your chest and have to shout to be heard. When I researched the Calandula falls of IN HIS SIGHTS, the images looked very similar to the Iguacu falls here in Brazil, so I incorporated the noise levels into the book. 
So what about you? Do you notice those little details in books? Do they add to your enjoyment, or are they things that just slip by unnoticed?
A three-time Golden Heart® finalist, Tina Beckett writes contemporary medical romances for Harlequin Mills & Boon as well as single title romantic suspense for Carina Press. When not in the middle of her latest book, Tina enjoys crafting stained glass panels, riding horses and hiking with her family. Fluent in Portuguese, she divides her time between Brazil and the United States and loves to use exotic locales as the backdrop for many of her stories. You can learn more about Tina at her website: http://www.tinabeckett.com or find her hanging out on Facebook or twitter.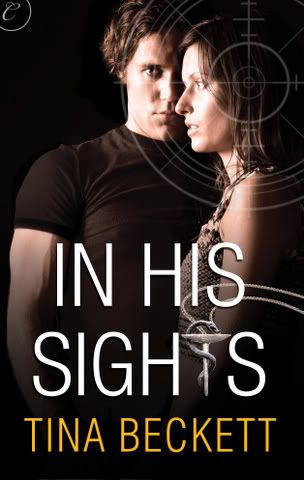 Tags: Books, new release, Romantic Suspense