Last year around this time, edits for my first Season of Invention book had been completed. It was being included in Carina Press's steampunk holiday anthology, and so the other contributors and I had put together a private Yahoo group to talk promotion strategies, but we also made a Facebook page (where we'll be holding more contests as our next steampunk books release!), a Twitter hashtag (#ClockworkXmas), and we thought up some really fantastic ideas for contests.
This was the first time I'd been part of a collaboration like this, and it was the most amazing thing to have the combined talent and diversity of those three brilliant authors working together with me. It meant that something I had always dreaded (the "P" word – Promotion) was suddenly a fun thing…and I think we all felt that way, it certainly came across in our blogs, our tweets, and everything else we did to help bring visibility to Angela's anthology.
But the best part is that, even after the release of A Clockwork Christmas, the "Antho Sisters" have continued to be the staunchest supporters of one another. The bond that we formed over our mutual experience became something greater than a desire to collaborate on promotion. It became a friendship that I treasure. I can't express how grateful and honoured I am to have these women in my corner.
So, it's with a certain kind of sibling sort-of pride that I say, since the release of A Clockwork Christmas, PG Forte has been hard at work and before the end of the year, we're going to see some AMAZING stuff from her, including a sci-fi holiday story that will knock your socks off and the continuation of her Old Sins vampire series!
Stacy Gail has certainly been busy! She'll have another novella in this year's Sci-Fi anthology with Carina Press called How the Glitch Saved Christmas. She's also contracted with CP to publish TWO new series!! Her Earth Angels series is heart-pounding, hot paranormal and the first book is called Nobody's Angel. Her Texas series is small-town contemporary romance featuring characters who will steal your heart.
Jenny Schwartz knows Steampunk like no other. She embraces the drama of it, the romance of it, and her work embodies steampunk with a sweet and funny Australian flair in a way no one else can match. When I heard (and got a chance to read) the second book in her Bustlepunk Chronicles and realized that Esme and Jed's story would continue, I was beyond excited!! Look for Courting Trouble in October!!
Join me in a big sisterly squee for all of my Clockwork Christmas antho partners, but don't forget to check out Broken Promises too. It's available now!
For a chance to win a copy of the Clockwork Christmas anthology AND a copy of Broken Promises, tell me about a time when you've collaborated with others on a project. How did it go? Was it a good experience, or did it make you want to tear out your hair?
Thanks!!
JK Coi
www.jkcoi.com
BROKEN PROMISES (Book 2, Seasons of Invention)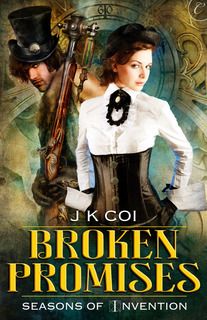 Former ballerina Callie Carlisle is determined to rebuild her life with her new mechanical limbs. She's just learned to accept the enhancements that saved her from certain death when she experiences uncontrollable twinges and flashes of light that obscure her vision. Terrified of literally falling apart, she resists telling her husband. Jasper's already vowed to keep her out of harm, and she doesn't want to worry him further.
When the War Office's General Black arrives with an urgent mission—rescue the doctor who created Callie's enhancements—she has no choice but to accept. A rogue agent and former patient of the scientist believes the biomechanical modifications he received are killing him, and he's out for revenge.
Callie must reach the doctor before it's too late. But with an overprotective Jasper at her side, and her alarming symptoms getting more frequent, will she be able to hold herself together long enough to save the doctor…and herself?
Tags: A Clockwork Christmas, Broken Promises, Jenny Schwartz, JK Coi, PG Forte, Seasons of Invention, Stacy Gail, steampunk