Fall is a lot more than back to school. For me, it's the official start of the new entertainment season! In Toronto we are enjoying TIFF, the Toronto International Film Festival, which kicks off the Oscar race.  I'm hearing a lot of buzz about Joss Whedon's Much Ado About Nothing, Argo and Cloud Atlas. In TVLand I'm looking forward to The Mindy Project,  Arrow, Nashville and Season 2 of Homeland.
And then there are the books. I am going to highlight 5 Carina Press titles I am very excited about that are being published this fall. Either I read the story for acquisition or have heard good buzz and am looking forward to reading it.
#1 ALL HE EVER NEEDED by Shannon Stacey. The Kowalskis are back! On sale now.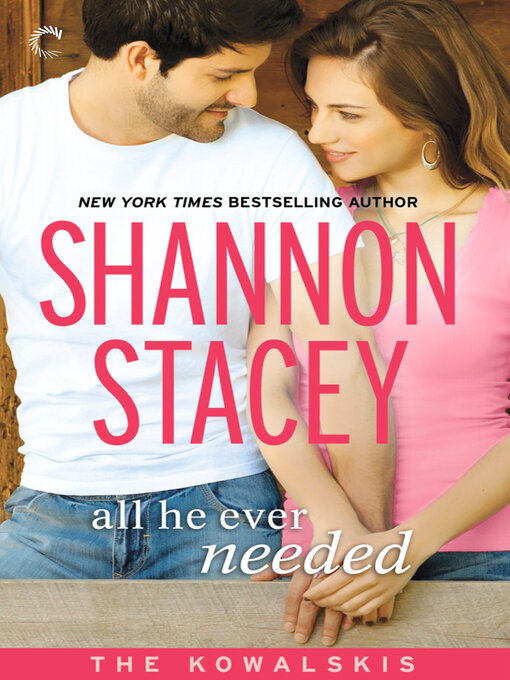 He won't stay put for a woman, and she won't chase after any man…
Mitch Kowalski lives out of a suitcase–and he likes it that way. Traveling for work has the added bonus of scaring off women who would otherwise try to tie him down. But when he's called home to help with the family lodge, he's intrigued by the new girl in town and her insistence that she doesn't need a man. If there's one thing Mitch can't resist, it's a challenge.
After a nomadic childhood, Paige Sullivan is finally putting down roots. Determined to stand on her own two feet, she lives by the motto "Men are a luxury, not a necessity." But when Mr. Tall, Dark and Hot pulls up a stool in her diner and offers her six weeks of naughty fun with a built-in expiration date, she's tempted to indulge.
They're the perfect match for a no-strings fling. Until they realize their sexy affair has become anything but casual…
#2 HOW BEAUTY MET THE BEAST by Jax Garren. On sale November 12.
I read this book on Angela's recommendation and it is fantastic. It's why I read romance. The story is romantic and sexy. It has a tortured hero and great world building. The love story concludes over the next two books and you will enjoy each segement. I only wish the author wrote faster. Write faster, Jax Garren!
The Beast 
Scarred. Damaged. Living with a terrible secret. Agent of the Underlight Wesley "Hauk" Haukon has nothing left but the fight for liberty against the oppressive Order of Ananke. He's starting to lose hope…and then he sees her. 
The Beauty 
Despite her night job as a burlesque dancer, grad student Jolie Benoit has always played the mostly good girl. That all changes following a scorching sexual encounter with a stranger whose face she doesn't see. After she's kidnapped by thugs and rescued by a man with a very familiar voice, Jolie becomes a pawn in a struggle she never knew existed. 
Hauk knows he cannot have her, and resolves to protect his heart and his secrets. But as they work together and grow closer, he finds new reason to keep fighting. Dare he risk hope in a new life, one where Jolie can see past his ravaged face and where their friendship can grow into something more?
Sigh… (tha'ts me) It's a seriously awesome romance.
#3 Marie Force's latest FATAL DECEPTIONS. I can hardly believe we are already at book 5 and really enjoy the suspense and the ongoing relationship. If you are looking for a strong suspense series wherein you can watch a couple's relationship grow and deepen then try the Deception books. On sale November 12.
Copy: The wife of the White House deputy chief of staff has been beaten to death, and their one-year-old daughter is missing. D.C. Police Lieutenant Sam Holland is in charge of the murder investigation, but she's forced to collaborate with Special Victims Unit detectives as well as thorn-in-her-side FBI Special Agent Avery Hill. Then, a cold case of her father's resurrects old hurts—a distraction Sam cannot afford.
As Sam's investigation heats up, so does Nick's political career—and the heat carries over to their bedroom. Will Sam put the pieces together in time to catch a killer and find the baby, or will ambition, greed and lies prove fatal?
#4 A GALACTIC HOLIDAY. You have to love it for the title alone, plus the concept is holidays in space (think of it using the Muppet voiceover 'Pigs in Space'). It's like a Very Special Firefly!!! On sale on December 3, you can buy it as a collection or individual titles. You want to know the titles, you say. Have you been a good reader all year? You have? All right then…
How the Glitch Saved Christmas by Stacy Gail
Galileo's Holiday by Sasha Summers
Winter Fusion by Anna Hackett
Copy:
Do androids dream of electric sugar plums? 
A detective who refuses to modify her body teams up with her cyborg rival track down a burglar who is putting toys into homes. A solitary ice miner finds love and friendship while stranded on the surface of Galileo. And two hard-headed negotiators put their differences aside to evade an assassin and save their planets. Enjoy these visions of Christmases yet to come with three science-fiction novellas from Carina Press.
How awesome is that. Plus it was edited Angela James. 
#5 
 THE THEORY OF ATTRACTION, A SHOT IN THE DARK, FORBIDDEN FANTASIES by  Delphine Dryden, Christine d'Abo, Jodie Griffin. I an super super excited by this anthology because not only will it be the first Carina Press book you will find in print in stores with the Carina Press logo on the spine (you can find Shannon Stacey books in stores under the HQN imprint — long story) but it combines some of our very favorite erotic romance stories. I read and enjoyed all three books, but THE THEORY OF ATTRACTION stands out because of the humor. It's not often you find bondage and laughter together!
It will be on sale in stores in November and also as an ebook anthology. It's sure to be a collector's item!
Happy Fall Reading! What books are you looking foward to?
Tags: Jax Garren, Marie Force, Shannon Stacey, The Kowalskis