What a Writer Needs
At my daughter's school, something called "Writer's Workshop" is part of the curriculum, starting in kindergarten. They learn about inciting incidents, conflict, and that stories need to have a beginning, a middle, and an end. I'm impressed–creative writing wasn't taught at all in my childhood school, as best as I can recall, and certainly not so early! So far young Miss Fraser, age 8, has been encouraged to write nonfiction stories of daily life, though she's prone to cheat by writing about adventures from her favorite video games.
This year when we went to Curriculum Night a few weeks after school started, we found the following list in Miss Fraser's Writer's Workshop notebook.
My remark when we saw that? "She left out peace and quiet." Though I'm in full agreement that "Ideas" belong at #1 and "Food" should be in a big font!
My List
Ideas
Peace and quiet
A good computer
An ergonomic desk and chair
A personal research library and access to a good library system
Piles of index cards and a corkboard
A whiteboard and multicolored dry erase markers
A notebook and plenty of pens
Chocolate
The whiteboard, notebook, and corkboard are all key parts of my process. I've tried using Scrivener, where a virtual corkboard and files full of notes are part of the same file as the manuscript, but it didn't work for me. I need to be able to step back from the keyboard and take pen in hand to brainstorm properly. It flips on a different switch in my brain, somehow.
When I was finishing the first draft of An Infamous Marriage, my new release from Carina, I added sticky notes to the mix and wrote up a separate one for every scene or key character moment that needed to happen before the end of the story. I divided my office door into sections labeled "To Do," "In Process," and "Completed," and moved the notes from section to section as I worked. Seeing all those little squares of paper crowded into the Completed section the day I finished was beyond satisfying.
What about you? What triggers your creativity, whatever form it takes? Comment to enter my month-long blog tour contest. At the end of the tour I'll be giving away a grand prize of a $50 gift certificate to their choice of Amazon, Barnes & Noble, or Powell's Books to one commenter on the tour. You get one entry per blog tour stop you comment upon, so check out my blog for the whole schedule! If you want to be entered in the drawing, include your email in your comment in the format yourname AT yourhost DOT com.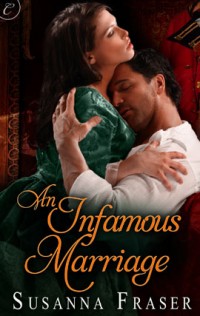 Northumberland, 1815
At long last, Britain is at peace, and General Jack Armstrong is coming home to the wife he barely knows. Wed for mutual convenience, their union unconsummated, the couple has exchanged only cold, dutiful letters. With no more wars to fight, Jack is ready to attempt a peace treaty of his own.
Elizabeth Armstrong is on the warpath. She never expected fidelity from the husband she knew for only a week, but his scandalous exploits have made her the object of pity for years. Now that he's back, she has no intention of sharing her bed with him—or providing him with an heir—unless he can earn her forgiveness. No matter what feelings he ignites within her…
Jack is not expecting a spirited, confident woman in place of the meek girl he left behind. As his desire intensifies, he wants much more than a marriage in name only. But winning his wife's love may be the greatest battle he's faced yet.
—–
Visit Susanna Fraser at her website, follow her on Twitter, or stop by her blog.