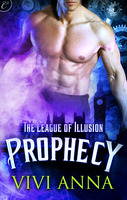 The Carina Press authors are "Getting in Character"!
What is your character's favorite book?
Kendra Morgan spent many hours reading when she was growing up. As the black sheep of the family, she often found solace in the world of fiction. Maybe it was her love of romance novels and the belief in happy ever after that let her stay in an abusive relationship far longer than she should have. After years of disappointments and pain, she finally found her knight in shining armor in a BDSM club of all places. So it's no wonder that she still loves to read romance books. If the woman in those crazy plots could find love, then it always gave her a bit of foolish hope that she would too.
Kendra's favorite book:  Lover Awakened by J.R. Ward
Bonds of Need by Lynda Aicher is available now!
***
Illusionist Rhys Davenport from League of Illusion: Prophecy is a man of little words but big actions.  He'll do just about anything for those he loves and respects. Like his brothers and his new acquaintance in unnervingly attractive Corina Stratton.  For her he would move mountains.
His favorite book series would most definitely be the Harry Potter books.  The themes of loss, betrayal and standing up for what is good, for what is right, would sit very well with his high morality and outlook on life.  Harry sacrifices all for the good of many, something Rhys would definitely do as well.
The League of Illusion: Prophecy by Vivi Anna is available now!
***
Alice Bowman from Hunger Awakened is down on her luck, but she has a love of research instilled in her by her mother. Searching for the origins of people and things is practically in her blood. Her talent with genealogy research ends up keeping her off the streets for a single night when she meets a sexy vampire, intent on learning as much as he can about his own origins.
It's no wonder that one of her favorite books to read as a teenager was The Clan of the Cave Bear. Not only does history come to life, but there's something compelling about following the story of a woman who is surviving amidst a family that doesn't really accept her. She ends up a stronger person in the end for it. While at the end of the book that things might be at their worst for Ayla, you just know that she's going to survive.
Hunger Awakened by Dee Carney is available now!
***
What is your favorite book?