Mystic Cove, a Lovely Place for a Murder
By Daryl Anderson, author of MURDER IN MYSTIC COVE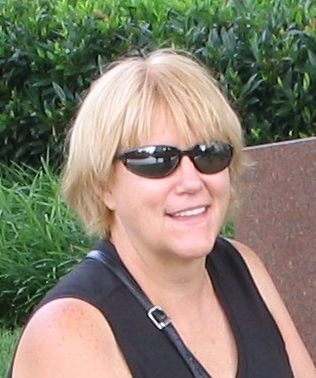 "This would be a great place for a murder!" I blurted.
From the set of gaping mouths and popping eyes, I realized I'd spoken out loud. Only my husband, who knows me too well, had no reaction.
"Well, it is," I said with a grin.
Let me backtrack.
I'm Daryl Anderson, and today is the release date for my debut novel Murder in Mystic Cove. I'm tremendously excited of course, but also more than a little nervous. In fact, I feel like an overprotective mother who has just watched her little darling board the school bus for the first time.
Separation anxiety aside, this milestone in the life of my book is an occasion for looking back at the beginning.
A couple of years ago, I'd decided to try my hand at writing a mystery, but was having trouble getting started. I had the main pieces. My sleuth Addie Gorsky was a homicide detective who had thought she'd seen the last of murder. The killer was crafty as a wolverine, and as dangerous. The victim was an old misanthrope by the name of Mel Dick. I'd even worked out that the sole witness to Mel's violent end was his beloved dog Mr. Jinks, an old pug with a flatulence problem and a flair for fashion.
But somehow the parts wouldn't come together. It was like trying to put together a jigsaw puzzle with a vital piece missing. And then something happened.
My sister-in-law invited my husband and me on a family outing. No big deal, but her destination of choice was an upscale retirement community in north central Florida. I didn't get it.
"I don't get it," I told my sister-in-law. "What's the big deal?"
"They have a great town center—it looks just like a village in New England! You'll love it!"
I was less than enthusiastic, but I piled into my brother-in-law's minivan with the others. And who knew? Maybe it would clear the creative cobwebs.
When the van turned into the town center, I sat up and took it all in. It was a beautiful, if warm, afternoon in late spring. The clouds were marshmallow fluff in a pale blue sky. The Florida sun was laser bright. I had to admit—the place shone like a shiny bauble.
Riotous blooms of white oleander and pink bougainvillea lined clean streets. Neat brick buildings harkened to an earlier century. Throngs of pedestrians tried to keep out of the way of the tricked-out golf carts that darted along the clean streets like crazed Jesus bugs. An artificial paradise—Disney World for the older set.
I wondered what would happen if a murderer set up shop in a place like this upscale retirement community. Wouldn't that be fun? Wouldn't that be a lovely place for murder?
As you've probably guessed, that's when I made my ill-considered comment about murder. It was also the precise moment when my novel became real.
That brief visit to the  provided me the spark I'd needed, and within a week I was writing the novel that would become Murder in Mystic Cove. The characters that had been banging around inside my head found a cozy home in the murderous town of Mystic Cove, a place of darkness and light, where a serial murderer kills with impunity until…
But I've said enough for now. Let me know what you think about Mystic Cove. Do you agree that it's a lovely  place for a murder?
"Paradise looked the same as it had before—people walked the sidewalks, golf carts buzzed and the sunlight dazzled. But appearances deceived. There was a serpent in paradise and last night it had slithered from its hidden place and struck, bringing death to Mel Dick."~
Guarding the manicured wilds of an exclusive retirement community might seem like exile to a homicide cop. But Addie Gorsky moved to Florida to live with her ailing father, not to chase criminals. In fact, her new job as head of Mystic Cove security is a nice break from all the big-city bloodshed.

But when the community's most despised resident is found dead in his tricked-out golf cart, Addie's ready for action. The local cops focus on the obvious suspect—the unhappy wife—but Addie knows there's more to the story. When the sheriff asks for assistance, she can't resist. Only the deeper she digs, the more questions she turns up.

Surrounded by secretive, tight-lipped residents, Addie soon finds herself hip-deep in a mystery as tangled as cypress roots—and directly in the sights of a cool, clever killer who has no compunction about killing again……
Daryl Anderson was born in Baltimore, Maryland, but has lived most of her adult life in Florida. She lives off a dirt road just outside of Gainesville with her husband and their two spoiled dogs, Fera and Sally. When not plotting murder, Daryl enjoys gardening, vegetarian cooking, and cycling.
Connect with Daryl!