I once offered to babysit for a friend while she went out on a date with her husband, where they could sit and talk over good food and good wine.
Her response was: we'd have nothing to talk about. 
Yeah, it surprised me, too, particularly as I remembered this couple as being really good friends before they married. Now they barely speak to each other. I noticed that those of my friends and family who had recently separated or divorced had a similar cry – we didn't/couldn't talk or agree anymore.
This concept, this lack in effective communication, inspired 'For Her Eyes Only'. Vicky and Ryan are used to talking, to sharing – but not the important stuff, and that's lead to a lot of assumptions, and consequently actions and reactions that have created pain and anger, resulting in a deep chasm between the two.
My hero and heroine, Ryan and Vicky, are old friends, and we've met them in previous novels in the McCormack Security Agency series. I love these guys – they're sassy, they're sexy – and they can be so very good for each other, and yet so very wrong. Here's a blurb on the book: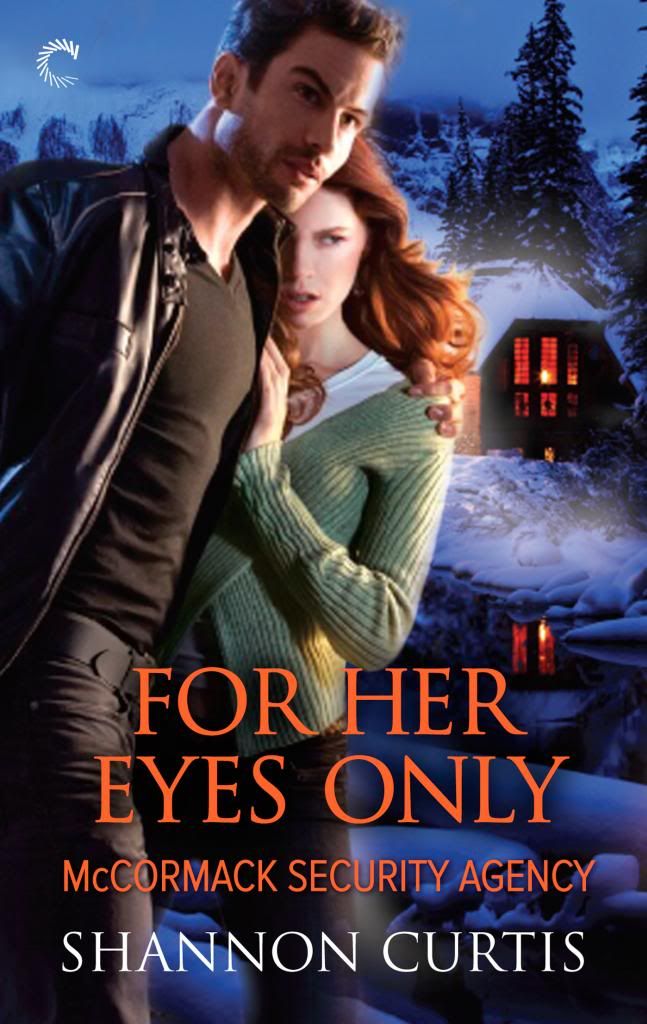 Ryan Brennan has worked plenty of jobs for the McCormack Security Agency, so going undercover at a couples resort to identify a pair of killers should be easy. Except his assigned partner—uh, "wife"—is Vicky Hastings. It takes all his willpower to keep their relationship professional, even when they're not sharing a secluded cabin.
Finally out from behind her desk, Vicky can't wait to prove herself in the field. But with Ryan? Their office flirtation cooled when he turned her down after a scorching kiss at the office Christmas party. Working together while sharing close quarters certainly isn't making it easy for her to stop thinking about him.
 After a series of escalating "accidents," including Vicky's near-fatal fall from a tampered bridge, the two have to work together to wrap up this case fast, before more than hearts get broken.
I like to really test my characters, so my first thought was – what kind of undercover situation would be absolute hell for Vicky and Ryan? It didn't take long to come up with a couples counselling retreat, where every attendee is not only completely dysfunctional in their own relationship, but also a suspected killer.
Conversely, I also had a culprit couple, which was a first for me (and many thanks to Dr. John Barletta for insight into the twisted psyche of a killer couple). Unlike Vicky and Ryan, this couple are totally in sync. They know each other so well, they know how the other thinks, they can anticipate the other's action, and they provide support for each other. The problem is, they can't really interact nicely with society on account of all the killing they do together. You know that old chestnut, a couple who kills together, stays together…so how is it that this psychotic couple can triumph where my heroic couple flounder?
I talked to a few relationship counsellors for research for this book, and one resounding element for strengthening a relationship that came out of the research is not just the ability to 'talk it over' with your partner, but the ability to actively listen, and then empathise – and how a regular date night can be so very important for reviving a relationship.
I'm the first person to recommend 'me' time to my friends and readers, that time where you can do something for YOU, spoil yourself, pamper yourself, take the time out to focus on YOU. In this case, I'm recommending 'US' time. Time to focus on you AND your partner, to pamper, refresh and relax as a couple.
Giveaway alert!
What would be your favourite date night? What have you found works well with reconnecting with your partner? I would love to hear from you. Leave a comment to enter the draw for a chance to win one of two copies of my new book, For Her Eyes Only, and a special, limited edition  'For Her Eyes Only' Date Night Have-A-Chat conversation starter kit!
If you can't wait for the announcement, you can get your own copy of 'For Her Eyes Only' here.
I love to hear from my readers, so please feel free to get in touch with me:
Facebook: https://www.facebook.com/Shannon.Curtis.Writers.Ink
Twitter: https://twitter.com/2BShannonCurtis – or follow @2BShannonCurtis
Website: http://www.shannoncurtis.com/