Welcome to Throwback Thursday, where we highlight one Carina Press backlist title we think you should check out! Each week we'll choose one book (published at least one year ago) to feature and give away!
Today's post was written by Rhonda Helms, Freelance Editor, Carina Press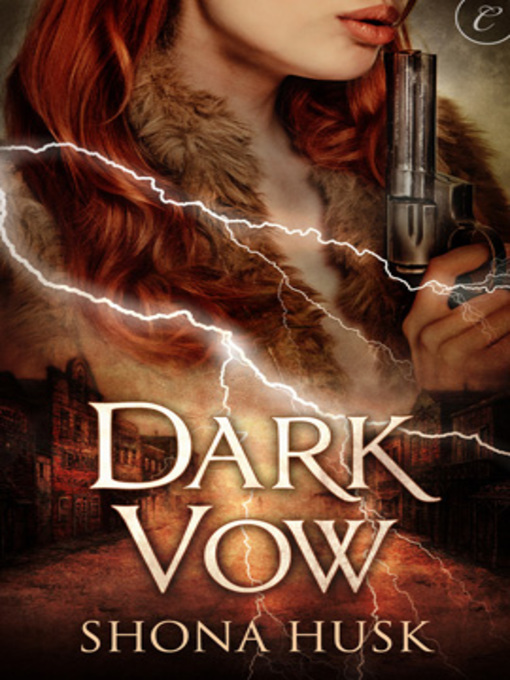 "A western with a magical bent, Dark Vow's aim is true." —RT Book Reviews, Top Pick
Within the first few pages of picking up this western fantasy submission, I knew I was going to acquire it. I love the tone, the richly rendered setting, the heroine, Jaines, who's on a quest for vengeance against the sinister man who murdered her husband. This story knocked me off my feet. To be only 65,000 words, it has the feel of a longer novel because of how intricate and well-developed the author's world is. And yet, when I reached the end, I wanted more.
Obsidian, the hero, is flawed, sexy and so interesting. I love the way these two damaged characters begin to open up to each other, to fall in love—the romantic arc's pace is perfect. Their quest evolves and becomes bigger than their own personal grievances. Simply put, this story has everything I love in romance—a strong narrative, fascinating characters and a romance that hooks me.
***

Jaines Cord plans to kill the man who murdered her husband, even though killing a Bounty Hunter is said to be impossible. One bullet took away her livelihood, her home and her love. One bullet made by her. Fired from the gun she completed for the Arcane Bounty Hunter.
Obsidian wears the scars of disobeying the powerful Arcane Union. He barely escaped with his life and now lives quietly, in a town the lawmen forgot. When Jaines arrives asking too many questions, he's faced with a decision. Help her or run…again. Obsidian knows that if he flees he'll always be looking over his shoulder. His name is one of the first on the Bounty Hunter's death list.
Yet when Obsidian is offered an opportunity to stop the stone taking over his body in exchange for retrieving the gun, he asks Jaines for her help. Now Jaines must choose: a dead man's vengeance or a living man's hope?
***
Comment below to win an epub copy of Dark Vow!*
*small print: Contest closes 11:59 EST Thursday, September 19. North America only. Winner will be chosen at random. Full rules here.