The clothes dryer is broken. The car is in the shop. The cat threw up on the bed. And you have to lose five pounds before your physical next week.
Recognize any of that? Modern life is full of stress. But there are ways to cope.
I turn to books. Sometimes it's books by other authors. Often it's the book I'm writing. When my husband and I have to wait in line for something, he asks me, "Do you have a book to read?"
I usually answer, "I don't need one. I'm thinking about my next scene." And of course, there's nothing like falling off a curb while you're working out your plot, which I did with my latest Carina release, SHATTERED MAGIC, the next novella in my Chronicles of Arandal series. It's set in the medieval-type fantasy world I created when I wrote DARK MAGIC. Fantasy on another planet is an ideal escape from everyday life. Which is why I'm glad to be back there with SHATTERED MAGIC, and I've got another story in the works, DANGEROUS MAGIC.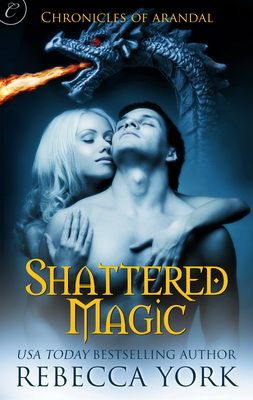 Do the titles suggest a theme? In my fictional village of Valleyhold, you don't have to worry about electric lights, dishwashers and putting on weight. You can fix just about anything with your paranormal powers. Fun and easy. But there's a downside to relying on magic. The rulers of Arandal, a nearby kingdom, think magic is evil, and if you're caught using it, you will surely be executed.
Life in Valleyhold is fine for my heroine, Rowan, until an evil sorcerer claims her for his bride-to-be. Desperate to escape his clutches, she flees the only home she's ever known–and meets up with a heroic, handsome guy named Grant, who saves her from a dragon. Maybe he's the solution to her problem. If she gives him her virginity, she won't be a suitable bride for the man she loathes.
Everything's going according to plan, until she discovers her lover is really Prince Grantland of Arandal. And when he spies her using magic, he vows to kill her. How's that for a conflicted relationship?
Working out their complicated problems was a good way for me to get away from the less satisfying aspects of my own life. The refrigerator is bare? The cats are scratching up the Oriental rugs? The sewer line needs flushing out? No problem. I can go have some fun in Arandal. And I hope you'll enjoy going there with me.
Here I am at my new treadmill desk.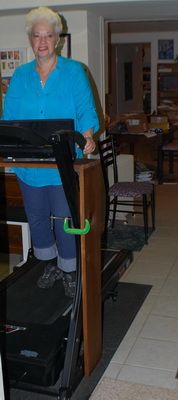 What's your favorite stress reliever? I will be giving one person who comments on my blog a copy of my previous Arandal novella, DARK MAGIC on CD.
Buy now: Carina Press store | Amazon.com | BarnesandNoble.com
____________________________________________________________
USA Today best-seller, Rebecca York (aka Ruth Glick) lives in Maryland with her husband and three cats. She has traveled around the world (most recently to Belgium and Holland), flown in a glider plane, and gone down in a submarine. She is one of the few recipients of RWA's Centennial Award. She has written more than 100 romance novels, including paranormal romantic suspense for Berkley and romantic suspense for Harlequin Intrigue, including her long-running 43 Light Street series, set in Baltimore. Her latest release is SHATTERED MAGIC for Carina Press.. She is the winner of a PRISM Award, two RT BOOK REVIEWS Career Achievement Awards, and 5 NJRW Golden Leaf Awards. Two of her books were RITA finalists.
Twitter:       @rebeccayork43
Facebook:   http://www.facebook.com/pages/Rebecca-York/122426234846?ref=hl
Blog:              http://www.onromancewriting.com
Web site:      http://www.rebeccayork.com
To hear me read an excerpt of SHATTERED MAGIC, listen to my recent podcast interview on Other_Worlds_of_Romance.