Welcome to Throwback Thursday, where we highlight one Carina Press backlist title we think you should check out! Each week we'll choose one book (published at least one year ago) to feature and give away!

Today's post was written by Jenny Bullough, Manager, Digital Content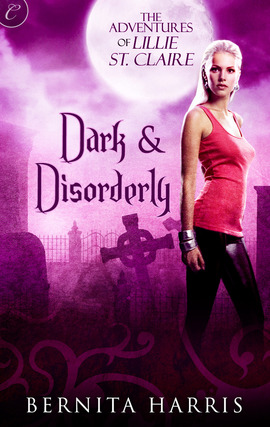 I was standing there naked when a dead man sauntered into my bathroom.
That was the first frightening thing. I knew he was dead. I'd seen him buried beneath the cold clay of the old cemetery. His gravestone was due to be delivered within the week.
He sauntered. He didn't shamble.
That was the second frightening thing, because I always thought such creatures did. Stumble and stagger, that is.
…
"Nathan!" I gasped. I shouldn't have. His name stopped the slow, blind swing of the sleek blond head and gave the viscous brown eyes focus. On me.
He curled back his sulky lips and leered.
That was the third frightening thing. I knew what he was and I knew that look.
So I heaved my entire container of lily-scented sea salt at him. The spew of crystals caught him full in the face and halted him in midstep.
He smoked and dissolved, all lacy and pockmarked, with a sizzling, eating sound of dissolution, like ice dumped in a sink and hot water poured over it. Even his clothes, the funereal black suit, writhed and curled like burning paper until the figure collapsed in a drift of dark dust on the bathroom tiles. A pall of charcoal smoke hung in his shape for another long moment and then abruptly vanished, leaving behind a stink—sharp as teeth—that overpowered the floral essence rising from the running water.
I threw up in the tub.
It seemed I'd managed to kill my husband a second time.
Have you ever read a book that hooked you from page one to the point where you couldn't put it down? That is Dark and Disorderly. I dare you to read the opening section above and not get hooked into this fantastic paranormal mystery. Who reanimated her husband? And why? These questions will keep you reading as Harris draws you into a compelling world where the dead can be reanimated to walk the earth, and only a select few –like the heroine – have the ability to both solve murders and lay their spirits to rest again.
***
Comment below to win an epub copy of Dark & Disorderly!*
*small print: Contest closes 11:59 EST Thursday, August 22. North America only. Winner will be chosen at random.