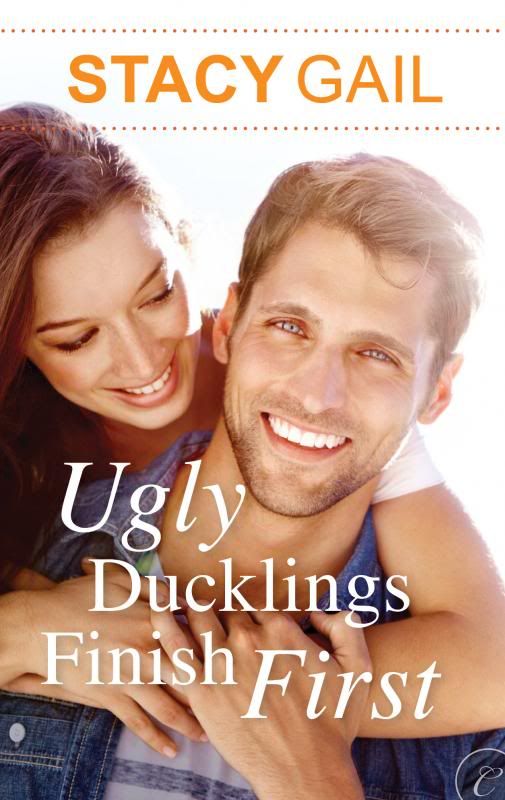 Yay, the first book set in the fictional town of Bitterthorn, Texas is finally here! Welcome to my inner world, showcased in UGLY DUCKLINGS FINISH FIRST!
So, how long have I been living with this world inside my head? Oh, only about a decade. It's this tiny Americana-like town that's a little bit like Mayberry, with a dash of those homey Hidden Valley Ranch commercials thrown in, and a huge helping of Norman Rockwell to finish it out.  Idyllic, right?
Oh, how I love turning that idyllic crap inside out.
There's no such thing as perfect, and Bitterthorn's no exception.  There are secrets behind every smile and casual glance.  Wiley "the Coyote" Sharpe seemed to be nothing more than a skirt-chasing pretty-boy, whose high school peers voted him  "most likely to be slapped with a paternity suit".  But in reality he's as sharp as his name implies, and now that he's all grown up and established as a lawyer, he sees things aren't quite right in his town.
Too bad he can't think straight now that his high school tutor, Payton Pruitt, has returned.
The character of Payton was inspired by a mish-mash of people.  For instance, when my brother was a kid, he skipped a grade and landed in a class where he was physically smaller than his peers, but just as smart, if not smarter. That meant he got bullied before he hit a growth spurt (and then… well, you know what they say about payback, heh).  My bestie Eva, a doctor of internal medicine (and to whom UGLY DUCKLINGS FINISH FIRST is dedicated), is a genius who always had her nose buried in a book and was made to feel like the odd-girl out, no matter what she tried.  And then there's me, the awkward goofball who'd rather be reading or writing than anything else.  Smoosh all that together, and you have the heroine of this story.
Payton is living proof that Bitterthorn isn't perfect.  Bullied unmercifully during her school years, she got out just as soon as she could. She had one friend to her name—Wiley—and only the thought of showing him how she'd grown into a beautiful swan could bring her back to the town she hates.  As she returns for her ten-year high school reunion, however, she can't help but notice that Bitterthorn is almost… tolerable.  What's even more amazing is that Wiley is passionately determined to show her that as far as he's concerned, she'd always been a beautiful swan.
Too bad someone is targeting him in a way that could put an end to their reunion… forever.
Want to know more about UGLY DUCKLINGS FINISH FIRST? Here's the blurb:
Metal Mouth. Queen Geek. Dr. Payton Pruitt heard it all growing up. But she's over it, and attending her ten-year high school reunion is the perfect way to prove it to herself. Even if there's only one person she's interested in seeing in Bitterthorn, Texas: Wiley Sharpe.
Now a respected lawyer, Wiley didn't live down to the label Most Likely to Be Slapped with a Paternity Suit. But recent acts of vandalism suggest someone still sees him as a heartbreaker, and the reunion seems a likely place to find the culprit. Instead, Wiley comes face-to-face with his old pal Payton—and is wowed not only by her transformation into a ravishing swan, but by the connection they still share.
Payton is pleased the playboy she used to tutor has grown into an honorable man, but she's too smart to fall for a guy with roots in a place she couldn't wait to leave. But while Payton is an academic genius, Wiley is the one with the PhD in pleasure, and he intends to use it to convince her to stay…
63,000 words
FYI: Be on the lookout for the second Bitterthorn book, STARTING FROM SCRATCH, a Carina Press holiday novella coming this November and edited by the amazing Angela James!
***
BUY LINKS:
Carina Press, Barnes and Noble, Amazon, Google Play, ebooks. com, Kobo, BAM (Books-A-Million), ARe, iTunes
Want a chance to win a $25 Amazon GC?  Here's your chance!  a Rafflecopter giveaway
***
 Question: If you were to go to your high school reunion, would it be out of curiosity?  To meet up with old friends?  To share with everyone that amazing life you've worked so hard to get?  To settle old scores? Or to put the ghosts of your past to rest?  I'd love to know. :)