We asked the ladies of the Love Letters anthologies to share their inspirations for Love Letters Volume 2: Duty to Please, and this is where the magic began:
E Is for Entice by Emily Cale
My husband comes from a small coastal town and has several friends who still live there. Last time we were visiting, I got to hang out at the 9-1-1 call center with one of them for several hours. Most of the calls ended up being pushed through to the Coast Guard. When we decided Volume 2 would be military themed, I knew I wanted to focus on a hero in that branch. Most people don't think about the Coast Guard, but anyone who spend a lot of time around the water knows how important they really are.
That's when Evan Marshall showed up. He had managed to leave town only to return years later with the Coast Guard. In the middle of reuniting with his high school sweetheart, he ends up needing to put his own needs aside in order to save a few others.
F is for Fallout by Ginny Glass

My inspiration was military in a roundabout way. I wanted a hero who wasn't a typical soldier or airman (even though those are just as yummy!), so I went with an embedded reporter. I've always wondered about the men who travel with our troops to cover all of the action – how do they keep from going crazy in the down time between segments?
Well, my hero, Spencer Corwin, sneaks a letter from the rejected pile of a "pal a soldier" program, and just when he thinks it'll be a good way to pass some time, he unexpectedly falls for the letter's author — a woman named Ginger who is (according to the enclosed photo) every man's inflatable blonde fantasy. Too bad she's actually Josephine Tate, a redheaded artist who thinks that she's getting her correspondence from a bonafide hero.
Spencer's not a soldier, Jo's not a Baywatch model. When the convoy he's part of gets attacked and he's sent back stateside, they'll both have to deal with the fallout from their little white lies — and maybe live up to the contents of their red hot letters.
G Is for Gun-Shy by Christina Thacher
A friend of a friend is a high-ranking something-or-other in the Ministry of Defence (yes, the Brits actually spell it that way). He holds one of those jobs–you know, the kind that if he told me what he actually did, he'd have to kill me. (So sexy. He's a bit out of my league, though.) One thing that amused me was that he had to spend some time at the Pentagon, dealing with the U.S. military analysts. I started to think about Americans and Brits discussing strategy.
Just like that, I was picturing a gorgeous British analyst, Davina Gunn, working closely with a young colonel, Jack Travis, who's been shipped from from Afghanistan because of the wound in his leg. As soon as I could, though, I got them away from the Pentagon (so not sexy) and stuck in a house on Maryland's Eastern Shore. Even out of their respective uniforms (hers being silk blouses and trim skirts), Davina and Jack have a lot to learn about each other. Nothing better than to be hands-on in your job…!
H is for Hotshot by Maggie Wells
I've always had a fascination with smoke jumpers. Okay, maybe not always, but I have nurtured a fascination with them since I saw the movie…Always. In it, Richard Dreyfuss plays a daredevil pilot and Holly Hunter as the spitfire of a woman who loves him. Humor, heartbreak, and a love everlasting.
*sigh*
I love all sorts of uniformed heroes. Tyler Prescott, my hero from D is for Detained (Love Letters Volume 1: Obeying Desire ) is a police officer. I have a sexy firefighter story called Rescue Me in coming in another collection this July. I adore a sexy SEAL or a forceful FBI agent. But with wildfires sweeping through the western half of the States last summer, I jumped at the chance to write the story of sexy smoke jumper Luke Whitehawk and his sassy chopper pilot, Tara Ferris!
Love Letters Volume 2: Duty to Please by Ginny Glass, Christina Thacher, Emily Cale and Maggie Wells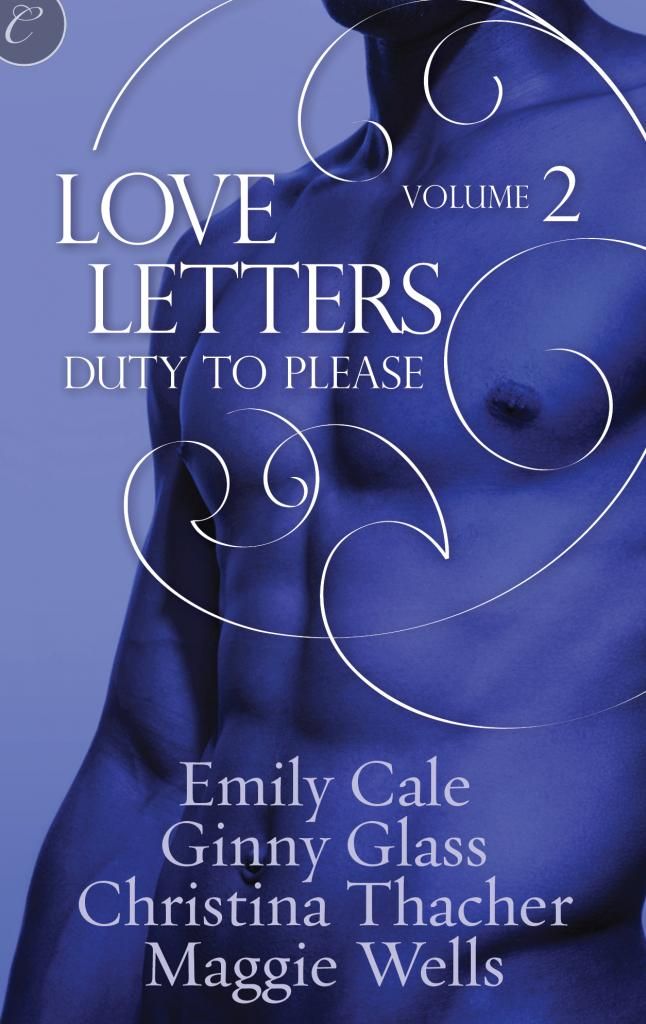 available NOW at the Carina Press bookstore or your favorite ebook retailer!
Hang out with the Love Letters ladies on Twitter!