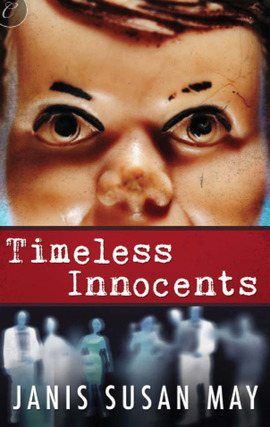 Most of the time I don't know where a story idea comes from. It just sort of lurks outside the edge of my conscious mind until suddenly it jumps on me with sticky little tentacles and won't let go until I acknowledge it. Then I take that idea, feed it, play with it, sometimes curb its excesses, and wool it around until it becomes a plot. Rarely, though, a story idea that is very close to plot-dom just appears, fully fledged and ready to go with very little work.
TIMELESS INNOCENTS was just like that. Born out of sadness that was a near-tragedy, it suddenly appeared in my mind ready to go with just a few tweaks. The backstory : early last year a dear friend of mine, an elderly lady with almost no family left, had a health crisis which made it necessary to go into managed care almost overnight. When it became obvious that she would never return to her home, several friends and I volunteered to ready her possessions for an estate sale, hoping to raise some much-needed money for her care.
There's no easy way to go through the private possessions of a friend, even when it's necessary. I had been in the house often, usually for tea, or bringing her back from some place we had been, but I had no real idea of what she had squirreled away!
The lady was a Collector, with a capital C. A full, large-sized Christmas village, with some twenty buildings, and a specially made table to display it on. Probably close to four hundred collector Christmas ornaments – and five Christmas trees! Perhaps twenty Christmas crèches. Dozens and dozens of little boxes made of everything from fine china to carved bone. Miniature lighthouses of the Eastern Coast. Commemorative plates. Owls in every size, shape and material.
And sentimental figurines. You know the kind I'm talking about, usually beloved by grandmothers and small girls. They're generally of idealized children, made of porcelain and about three inches tall, with oversized heads, large eyes and the expression of sick spaniels. I have one. My late grandmother gave it to me and for that reason alone I treasure it, though it will never see the light of day in my house.
My friend had over three hundred – probably a lot over three hundred, but that's where I quit counting. One of these saccharine little goodies is sweet, two are uncomfortably twee and three might induce mental diabetes. More than three hundred is totally creepy.
Knowing that they were a popular collectible, we gave them pride of place in the sale, putting them all on the dining table. We did sell quite a few, but not enough to make a dent in the crowd. Or maybe they were reproducing as fast as we could sell them. Three days staring at that bunch can make you believe almost anything.
And so TIMELESS INNOCENTS was born.
http://s1214.photobucket.com/albums/cc483/JanisMayPatterson/?action=view&current=TimelessInnocents-goodcover.jpg
Of course I realized I couldn't use my friend's story as it was, so I created a couple dedicated to good, only to kill them off ruthlessly. Of course, there was no way I could use those sweet little figurines, so I went into high gear and made the Timeless Innocents as different as I could. The Timeless Innocents are made of some strange, almost flesh-like material, not porcelain, and have distinct triangular eyes and tight triangular smiles, which I thought unsettling. The Timeless Innocents are also of adults, not children, and not very savory adults at that.
Once the basic premise was created, everything fell into place, actually within a couple of hours and before I knew it, I wasn't in control any more. I was startled when the unpleasant boyfriend simply strode up and started barking orders, and creeped out by the unsavory pair who – separately – were both determined to own the Timeless Innocents no matter what.
But it was the Timeless Innocents themselves who really sent my creep-meter off the charts. I could see those little things as clearly as the Peruvian water jar or the skull on my desk, even though they never existed in corporeal form. It also made me wonder about the state of my subconscious, since they pretty much sprang from there.
My husband – a Captain in the Navy – was on overseas deployment during all this. While he's gone for a year or more at a time, I naturally sink into a nocturnal schedule, writing at night and sleeping during the day. At least, I did until the scene came where Brianna – the heroine – first interacts with the head Timeless Innocent. The scene flowed easily from my fingers and I thought happily how scary it was. Then I looked around. It was about three in the morning, and – as we live on a very quiet street – the world was silent, dark and deserted.
I'm a grown woman, have been for a long time, but I still got a frisson of pure fear down my back that wouldn't go away. I walked through the house, turning on every light I passed, pulled the bedclothes over my head and slept uneasily until dawn. From then on I wrote only in the daytime and slept with the lights on until The Husband returned.
Maybe I'm a wimp. I don't think so, considering some of the adventurous things I've done in my life, but the Timeless Innocents scared me.
Some of my friends who have read it tell me I'm being foolish.
Some don't say anything, except to complain about their light bill.
(You can check out your own creep-factor at Carina Press -http://tinyurl.com/CarinaTimelessInnocents or Amazon – http://tinyurl.com/AmazonTimelessInnocents – or at your favorite etailer!)
Janis Susan May is a seventh-generation Texan and a third-generation wordsmith who writes mysteries as Janis Patterson, romances and other things as Janis Susan May, children's books as Janis Susan Patterson and scholarly works as J.S.M. Patterson.
Formerly an actress and singer, a talent agent and Supervisor of Accessioning for a bio-genetic DNA testing lab, Janis has also been editor-in-chief of two multi-magazine publishing groups as well as many other things, including an enthusiastic amateur Egyptologist.
Janis married for the first time when most of her contemporaries were becoming grandmothers. Her husband, also an Egyptophile, even proposed in a moonlit garden near the Pyramids of Giza. Janis and her husband live in Texas with an assortment of rescued furbabies.