There are quite a few things I love about being an author, especially an historical author. There are way too many to list but one of them is taking the woes of the modern world and translating them into the Regency equivalent. And I have to warn you, this blog and my book might make you a little sad to begin with, but in the end, it all turns out well for everyone. There is a happy ending at the end of this dark tunnel…
So the Regency era was famous for so many reasons but at the top of the list for me was an abundance of demented religious fanatics (stay tuned for that book)and a world with lots of animals and very little personal hygiene (not writing that book). News took time to spread but illness did not, mail took time to deliver and infant and pregnancy mortality rates were so high it makes you wonder how their civilization survived. One thing I often wonder about is how the Regency period dealt with medical issues when they would have had no idea a medical issue existed. Or would they have?
In a time where blood letting and leeching seemed a cure for whatever ailed you, what about the seemingly insignificant ailments? What would a woman do if she suffered miscarriage after miscarriage after miscarriage? Bad luck, you're not cut out for pregnancy or motherhood? Pretty much. Some blamed it on the woman being ill-educated and not doing her womanly, wifely duty. It might have also been grounds for the very rare divorce if your husband was a titled lord in need of an heir.
Behind the Courtesan didn't start with quite so much sorrow or intensity but like most authors, I was given the advice to torture my characters just a little bit more to figure out who they are and what they would do and why. One of my very close friends suffered three miscarriages before finally being diagnosed with a folate retention issue. And then I remembered reading an article about a poor woman who suffered nine miscarriages before being diagnosed with the same folate issues. And bingo, not only did I have my torture, I had a very real problem facing so many women around the world back then and today. Without folate in your body, cells don't develop properly and neither does the fetus. Most of the time, the baby is lost before 9-12 weeks. Just enough time to imagine what motherhood would be like. Just enough time to fall in love with the little person you grow inside of you.     
In the case of Sophia, the heroine in Behind the Courtesan, carrying a child seemed an impossible dream for her. After suffering her latest miscarriage, she accepts her brother's invitation to attend his wife for the birth of their first child in what seems like fate's way of laughing in her face. But it has been a long fourteen years with no family to lean on since she fled after being sold to a duke by her land-hungry father. She finally feels the time has come to face the people and village she left behind and figure out where her life is going. Prostitution had kept her fed, clothed, housed and relatively safe but the loss of yet another child weighs on her mind and her soul. So she heads to Blakiston for a not very happy family reunion.
Back to the woes again.
In 1920s, scientists believed that folate deficiency and anemia were the same condition. However, later, researcher Lucy Wills in 1931 made a key observation and found out that folate was a nutrient that was needed to prevent anemia during pregnancy.
But 1920 was over a hundred years after Sophia lived and lost. I'd like to think that her position in society and the money she made would have seen her visit an apothecary because let's face it, doctors back then were certainly not going to help you with this. Women's problems were just that until it affected their men and their titles.
Just some of the problems facing women of old were
Birth viewed as a natural event, trust in God and nature

Birth was women's province but…

Conflict between ancient practices and the church

Associations of midwifery with witchcraft (mostly gone by the Regency period)

Labor pain: women's punishment for Eve's sins
Can you imagine being told during labor, no drugs, this is what you deserve? I can't even imagine no drugs since both of mine were twenty hour labors that required medical intervention. I shudder to think I would have died as would my first born had we not been in the twenty first century. No wonder death rates for pregnant women were so high! And what about other women's problems? Polycystic ovaries? Endometriosis, which I myself suffer from. Fortunately I didn't need medical intervention to fall pregnant but I did need huge doses of iron before, during, and especially after my pregnancies. I still do now and probably will for the rest of my childbearing years.
The other hardest part of miscarriage in any era is the emotional damage it leaves in its wake. Nowadays we can see psychiatrists and have friends and support groups but Sophia is an 1800's courtesan. She has a handful of friends in London but no one to really talk to. She would have endured the pain all on her own and is quite morose in the first part of the book. But in the end, after the happily ever after, I like to think that Sophia eventually becomes a mother. After all, big city diets were so different than country diets. Perhaps the leafy greens and red meat are enough to help her conceive? Perhaps just being happy is enough?
I'm sure we all think about our characters after the story is done and The End is written. Hold onto that while you read my book. It isn't all sadness and loss, there are happy moments that might make you laugh out loud. There are also moments where you may have to perch on the edge of your seat while you wait to see what happens next. Above all, I guarantee this is one happily ever after you will want to stick out to the end.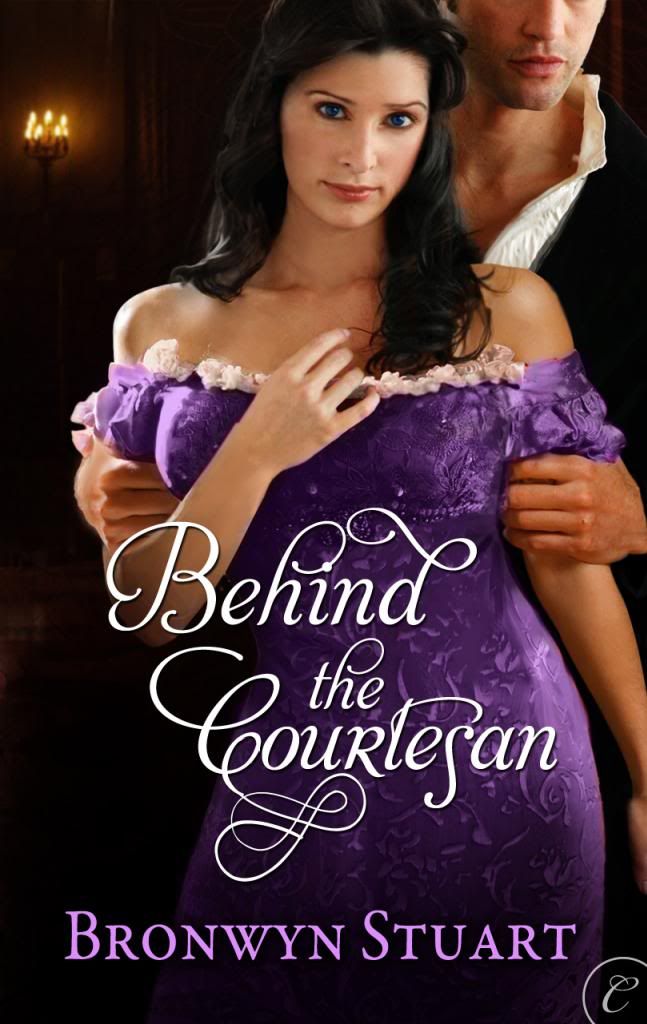 I wondered if anyone wanted to share their not-too-graphic stories of childbirth or infertility? Trust me when I say it helps so many other women. My best friend had no idea folate could present the issues it did for her and her husband (who they ultimately found had the folate issue and not her). She now has a very energetic almost three year old boy. Perhaps you know something that might help? There are five copies of Behind the Courtesan and my debut novel Scandal's Mistress up for grabs for those brave enough to share or comment.

Bronwyn's love of reading all things romantic got her into trouble at a very young age. Starting with Mills and Boon 'borrowed' from her mother and then progressing to meaty historicals and sweeping sagas, it's only fair that romance pays her back with unique ideas for her own novels. She now writes dark and gritty Regency that borders on the edge of noir with the occasional dabble in contemporary and women's fiction.
You can find Bronwyn on Facebook or Twitter or drop her a line at her website www.bronwynstuart.com
You can also buy your copy of Behind the Courtesan from Carina Press, Amazon, All Romance eBooks and most other small ebookstores.