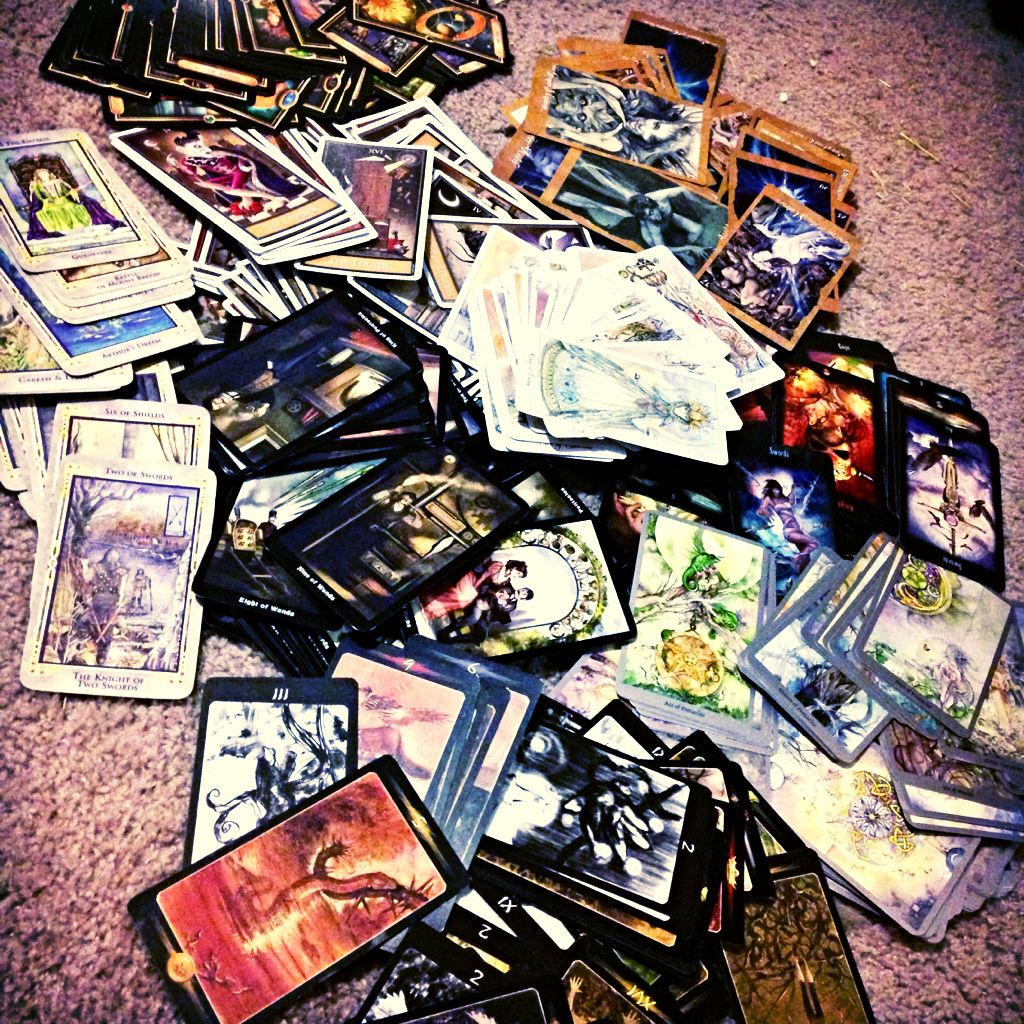 Did you know that I like tarot? It's true. I might have something of a problem.
The first deck I ever owned was the Arthurian deck, which you can see on the left side of the picture. I've had that deck for—wait, let me get the abacus out… okay, too long. Since I was a sophomore or junior, I think, in high school. I love tarot. I love the art, and the symbolism and the fantastic way it can help one work through questions one might have about life, the universe, and everything.
I had never, until now, successfully thought of a good enough reason to bring tarot into a book series. Sure, there's all the usual methods—the fortune teller, the tarot as a method to figure out plot, and so on—but I really couldn't settle on one.
Until Mr. Oliver Ashmore.
Tempered finally introduces Cherry St. Croix's mysterious guardian, and I had so much fun with him. Cherry, fierce defender of reason and science over myth and magic, is suddenly placed face to face with a different kind of tool altogether: Tarot.
Tarot as Alchemical Tool
Wait, wait, I'm crazy, right? Well, a little bit. Here's my overlap: in extreme short version, alchemy is the pursuit of perfection; perfection includes not just physical perfection (e.g., gold, immortality) but a perfection of the soul, too (e.g., Zen, or inner harmony, spiritual strength); Tarot is, in what's commonly called the Fool's Journey, about reaching the conclusion of a cycle beginning at the naive Fool and culminating in the completion of the World.
Ergo, alchemy utilizes tarot.
Want to know more? Mr. Ashmore has you covered. See how deftly he manipulates his addled ward into giving alchemy more of a chance than she has been willing until now. Watch as our intrepid heroine struggles for a eureka! moment that has, so far, eluded her.
Have you ever had your cards read? Are you a collector—of Tarot, that is, not of bounties (although far be it from me to judge)—or perhaps just idly interested? Or are you one of those who favor the deification of reason and science over that of the more esoteric arts?
Tempered: The St. Croix Chronicles
Forced out of London's coal-blackened streets, Cherry St. Croix is faced with her most difficult undertaking yet: sobriety.
At long last, my guardian, the enigmatic Mr. Oliver Ashmore, has revealed himself—and his order is clear: I am to be dried out at once, regardless of my wishes.
I loathe the country estate I am imprisoned within. Footsteps follow me, voices call for me, and my sanity wavers. In my fevered dreams, I am haunted by those I failed, while waking proves no protection from the ghosts of my reckless past. The craving for laudanum plagues me. I require a distraction.
To unravel the alchemical mysteries of my mother's family, I must rely on Ashmore's tutelage. I am lured to the art and drawn by the secrets my guardian possesses. Yet the deeper I delve, the more I believe that something dreadful disturbs these haunted corridors. In my madness, I fear that what it wants most…is me.
Available now from Carina Press! Or you can read an excerpt here.
Want to find me on the web? I've got you covered: