When I began writing TIME DANCER, I had a very specific vibe that I wanted for the hero. Darach is fearsome and brave but new to the world around him. So many things are strange to him, from the physical body he now has to the language he must speak. What is familiar is his nature, his magical sense of who he was at his core. He's designed to be a tracker, a guide. His power comes from the Earth and he has great respect for the land, many times more than he has for people.
This led me to research many Native American myths and stories. But the Land of Eldwyn is a fantasy place with a medieval flavor. How would a Native American inspired character fit into such a world? In some ways, perfectly and in others, not at all.  Which for my purposes was perfect.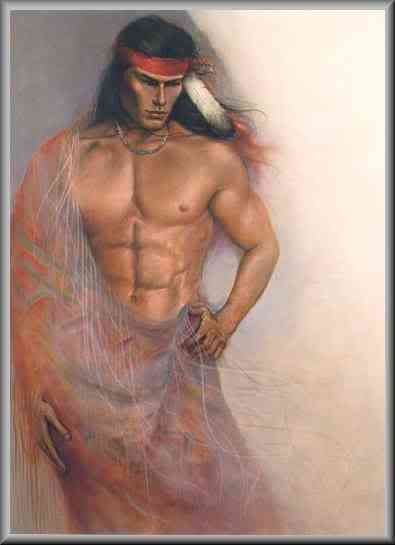 The physical parts were easy. He is rugged, rock-hard and stone-solid. Like all of the spells called to Eldwyn, he is beauty personified, this time in a masculine package. His hair is long and his animal-instinct strong. Dressed in a male-version of simple silk, he also carries deadly claws and immense magic.
But unlike any other spell I've written about, Darach is homesick. He misses his realm and clings to its memory. Many times, he tries to describe it to Jana, his charge and his love, but there aren't words to do it justice.
The words intrigued me. I used several Native American languages to craft Darach's native tongue. Zapotec, Mohican, Navajo and several others. The lyrical yet sharp syllables fit my image of Darach, raw beauty wrapped in harsh lines and muscle.
So how did that translate into the story? For one, he calls Jana his nayeli. Nayeli(Nay-el-ee) is a Zapotec phrase whose translation loosely means 'I love you'. Darach uses it in another way, with a different stated meaning, but every time he says it, I believe he is telling Jana he loves her.
And if there is any doubt, I think this half-translated passages proves it:
A pleading rhythm filled him, half his language, half hers. "Please…kimta…I need her…Wazanna…Oka'itiumu, oka ehnita, oka muurícha… She's my sun, my moon, my water…oka 'atupáma… She's my smile…Oka chol, oka no'ol, oka nayeli… She's my song, my woman, my everything… Please…kimta…Konoronkhwua… I love her."
TIME DANCER
Everyone has a duty in the royal castle—everyone except Jana Haruk. Despite her promising magical bloodline, her gift is weak. As a Reminiscent Seer, she knows only what happened in the past, not what will happen in the future. When the crown prince's life is threatened, Jana vows to do everything she can to help him—including asking the queen, a powerful sorceress, to lend her some magic.
The queen summons Darach, a spell in human form. The arrogant and mysterious man soon discovers there's more to Jana than meets the eye: she's a time dancer, someone with the ability to move backward through time in her dreams. With Darach as her anchor, Jana can explore the past and try to figure out who is behind the attacks on the prince.
Despite her attraction to him, Jana knows little about the handsome warrior. The past is tying them closer to each other with every trip, but Darach is bound to return to his homeland when his mission is complete…and their time together is running out.
Book three of the Eldwyn Chronicles(a stand-alone novel) You can read more of the Land of Eldwyn in Myla by Moonlight and Salome at Sunrise. All stories are separate and stand-alone.
Inez Kelley is a multi-published author of various romance genres. You can visit her at her website http://inezkelley.com/  Follow Inez on twitter at @Inez_Kelley or on Facebook at http://www.facebook.com/inez.kelley