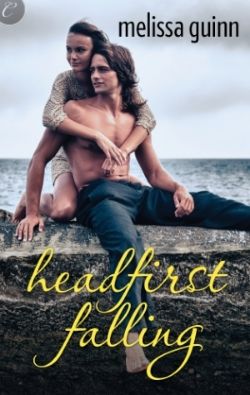 Three weeks before my book was set to be released I ran into an old college professor. She taught English Lit, and we had a love hate relationship. And by that I mean, she loved when I didn't show up to class and hated when I did. I was a science major. Chemistry, physics, and biology were the places I put my heart. I loved formulas, constants, and laws—not words. I liked numbers, because they were easy to figure out. You can imagine her surprise when she asked what direction life had taken me, and I told her I was writing novels. She was in such shock, I had to repeat myself three times, but when she came to, she said something that struck a serious chord with me.
"You finally took the plunge."
The plunge off the proverbial cliff—the one that we're all so scared to approach. That's just human nature, right? I mean, think about the feeling you get when you scoot too close to the edge of a cliff. It's unsettling—scary, even. It feels the way your first kiss tastes, or the way your hands shake when you finally touch the person your heart's been screaming about for days.
It has a tendency to turn your world upside down, and that's not just unsettling. It's terrifying. But we all do it eventually—take the plunge. For me, this happened when I took the stories from my mind and put them on paper. I stopped tip-toeing around the ledge and jumped. That's the bravest thing you can do, right? Throw all your weight into something. Because you're gonna fall, and I'll tell you right now, gravity won't let you land on your feet. If life gets its way, you'll land on your ass; it won't be graceful, and it's gonna hurt like hell. There isn't anything pretty about it. The beautiful part comes after the dust settles and you pull yourself up—when you reach the one thing that was worth leaping for.
—–
Charlie Day knows a thing or two about landing on her ass. Unfortunately, she didn't choose to jump. Instead, life gives her a swift kick from behind when Jackson Stiles saunters back into her life. You see, Jackson was Charlie's first love, and only for that matter, but that was before he and her brother enlisted and served in Iraq. Before Jackson came back different. Before they told Charlie her brother would never come back at all.
When Jackson takes a job at the company where Charlie works, it becomes painfully clear that the spark between the two of them is still there. A spark that could very easily become a flame. And you know what they say about that . . . where there's fire, someone's bound to get burned.
He looks at me, and my wits vanish into thin air. Just poof, gone. Here's the thing about Jackson…he's always had this crazy effect on me. Like this weird magnetic pull. Here's the other thing about Jackson… He's perfect, and by perfect, I actually mean perfect. Perfect nose. Perfect jawline. Perfect teeth. Perfect eyes. Perfect body. He's gorgeous in all the ways that make girls do stupid things. In fact, his only visible flaw is the small scar above his right eyebrow that he got during his first tour in Iraq. But it's sort of rugged and sexy. So if anything, it adds to his perfectness. Anyway, what I'm getting at is that Jackson is intimidating, extremely intimidating.

 
"I miss you," he says, leaning in.

That's when I catch a good whiff of him. He smells the same, like body wash and citrus fabric softener. The same body wash and fabric softener, actually. The way he smelled in high school when he was sort of mine.

All of a sudden, my mind slams into overdrive and he starts tumbling through it…a kaleidoscope of memories, flashing and burning bright. Jackson kissing me, me kissing Jackson, Jackson and his smile, Jackson laughing… Jackson, Jackson, Jackson. All the feelings come rushing back, and for a moment, I feel like everything is the same, like he's the same.

Except for the scar. So he's not the same, not really. He's been to war…he's changed, and he isn't my Jackson anymore. The thought sends my stomach plummeting to my feet. My gaze trails across his familiar face. Up the tanned skin of his neck, over his scruffy jawline, to his lips and then his eyes. I take a deep breath and look at the scar again. Then I burst into tears.
Giveaway: Who was your first love? Where you seven? Sixteen? Twenty-nine? I wanna hear about them. Or even better, tell me about the first big leap of faith you took—into life, love, adulthood. Post a comment below, and I'll pick two winners at random to be the recipients of a $20 gift card to their e-book retailer of choice!
Headfirst Falling available for purchase at: Carina Press / Amazon / Barnes & Noble / iTunes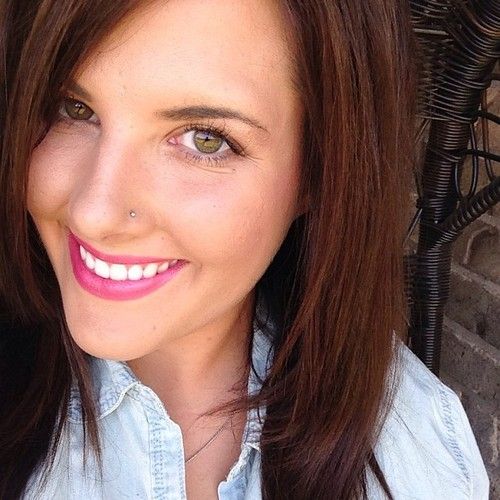 Melissa Guinn is a caffeine-driven Respiratory Therapist by night and writer by day. She was born in West Texas, where pump jacks outnumber the locals, and you never forget to say "yes sir" and "yes ma'am." It's in West Texas that she currently resides with her husband, their two dogs, and half-tailed cat-dog. Loves include: Books, people, nail polish, coffee, and sometimes tequila.
twitter / facebook/ goodreads / blog