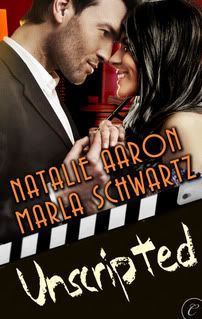 When we met over ten years ago, we became instant friends. What brought us together? A mutual love of Buffy the Vampire Slayer, Chick Lit books, a delicious little spread called Nutella and a new wave of television programming – reality TV.
Before the invention of TIVO or DVRs, we would religiously call one other every week during commercial breaks for The Bachelor or The Bachelorette. Our favorite pastime was to dish on every piece of drama and heartbreak the show could deliver. We were addicted and true, hardcore fans.
By the time we decided to write a Chick Lit together we were already working in reality TV so the the world of television production seemed the most natural of backdrops. However, when writing UNSCRIPTED, our protagonist Abby ended up being nothing like your typical, hopeless romantic Bachelorette. We considered making the character a reality show contestant, but rather than draw our inspiration from the shows and casts themselves, we found the people who made the magic happen behind the camera much more authentic and complex.
So we based Abby on the people we work with everyday. We focused more on her career, her friends and not catching a man – although that quickly changes…
Which brings us to Abby's boss, Will. We didn't see our Will on reality TV nor did we find him lurking behind the scenes with us. We wanted to create someone who could wake Abby from her reality TV induced fog, so we tried to make him a little mysterious, a little charming and a lot gorgeous.
After all these years, we are still true lovers of reality TV, The Bachelorette, and all that is good and unscripted in the world. So really, at the end of the day, if Trista could find her Ryan, why can't Abby find her Prince Charming?
Are there any reality television shows that have inspired your own works of fiction? Are there any shows you can totally relate to? We'd love to hear about it!
You can find us at our website: http://www.unscriptedbook.com
on Facebook http://www.facebook.com/unscriptedbook?sk=wall and on Twitter @Unscriptedbook.
UNSCRIPTED is available at most e-book stores including Carina Press
All the best,
Natalie Aaron & Marla Schwartz