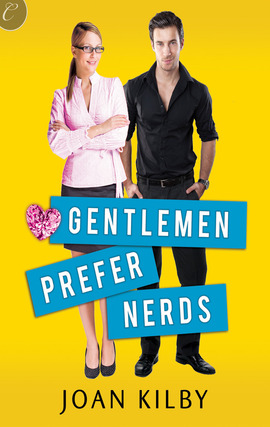 Take one nerdy gemologist heroine guarding a fabulous pink diamond, a James Bond-style hero, and a sneaky jewel thief known as The Chameleon and you've got the basis for GENTLEMEN PREFER NERDS.
I was describing my story to an editor at a conference once, saying, "It's kind of a comedy/action/adventure/romance/mystery…."
She nodded wisely, and said, "Oh, a caper."
I was writing a caper and I didn't even know it! I love the word caper. It implies fun and mischief. It makes me think of old Cary Grant movies. In fact, there's a fair bit of Cary Grant in my hero, Fabian. Sophisticated, handsome, witty, charming, intelligent with a cool head in times of danger. He just might be my ideal man. Sigh.
Maddie was such a fun heroine to write. I'm a bit of a nerd myself, I have to confess. Before I became a writer I was a marine biologist. I've spent many a long hour sitting behind a microscope and conducting experiments in the laboratory. A lot of that time I was dreaming of being swept away by a smoking hot–yet awesomely intelligent–hero. I didn't know it then but I was already in training for my future profession as a romance writer.
I had a ton of fun writing Gentlemen Prefer Nerds and letting my imagination run wild with Fabian and Maddie's escapades in search of the stolen pink diamond. But while NERDS is a teeny bit OTT there's plenty of emotional depth in the characters and their relationships with each other and their families to satisfy readers.
Fun also describes researching fabulous pink diamonds on the Internet. I spent hours drooling over photos and wishing I was rich so I could buy one. Australia, where I live and where the book is set, is the major producer of pink diamonds in the world. An exceptionally large one was found recently and was in the news. It's gorgeous but it's not as big or as valuable as the one in the book. (I might have taken a bit of artistic license on that. Shh, don't tell anyone.)
Fun, too, is Maddie's transformation from a nerd to a glamazon. She's an ordinary woman who is plucked from her ordinary world by an extraordinary man and taken on the wildest adventure of her life. In the process she's transformed into the bravest, sexiest, smartest version of herself possible. Now that's what I call a fantasy!
Back Cover:
Self-professed nerd Maddie Maloney is an expert on jewels. Jewel thieves are another matter entirely! So
when a mysterious Englishman warns her that a thief known as The Chameleon is after the rare pink
diamond on display in her aunt's shop, she tells herself it's just a joke. Even if she can't get Mr. Tall, Dark
and Handsome out of her mind…
But Fabian Montgomery doesn't give up easily. He's everywhere she goes, convinced the thief will strike.
And when the diamond does go missing—and Maddie is suspected of stealing it—he whisks her away from
the police and together they pursue The Chameleon. Fabian plunges her into a glamorous world far from
her humble workshop and transforms geeky Maddie into a sophisticated siren capable of espionage. Her
mission: to seduce The Chameleon and steal back the diamond.
But Fabian isn't telling her everything—like who he works for, and why he's so interested in The
Chameleon…
86,000 words
About The Author:
Joan Kilby is the award-winning author of over twenty Harlequin books. She lives in Melbourne, Australia with her husband and three children. For more information check out her website . Follow Joan on Twitter and Facebook or look for her on GoodReads
Read an extended excerpt of GENTLEMEN PREFER NERDS
Buy the book at:
Carina Press, Amazon or Barnes and Noble