In my first release for Carina, The Game Of Love, my hero and heroine are high school athletic coaches. Brett Wallace is a football coach (and a former pro). And Chris St. James is the new girls' tennis coach at the same high school. Oh, and of course, she was a former pro too. Quite the complex situation, right?
They say write what you know. I don't know who "they" are, but I think they have a good point here. I know sports. I was, in every sense of the word, a total JOCK in high school.
Okay, here's your warning. I'm about to shamelessly show you a few pictures from said high school jock days. This is your chance to turn back. If you continue, you can't say I didn't warn you. Oh, and it's okay. Feel free to mock me. Everything from high school is mock-worthy, if you ask me.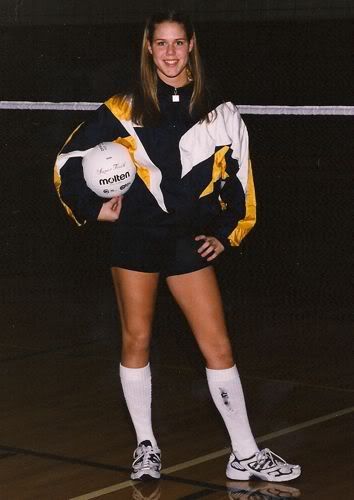 I played varsity volleyball and tennis, and I loved every minute of it, especially tennis. Tennis was a huge part of my life. I have some fantastic memories from my time on the varsity tennis team…like our run for the state title my sophomore year. Or playing doubles with my best friend our senior year. And some disappointments…like losing in three sets in the state finals our senior year. But those disappointments only molded me into a better athlete, and a better person.
Not to mention…look at my legs! Yeah. Playing sports definitely keeps you in shape! Ah, to have my eighteen year old body again… And have you seen my hero on my cover? Uh, yeah. I'm not gonna be kicking him out of my bed anytime soon. Let's face it. Athletes are hot. There's nothing wrong with a character with a permanent case of the "dropsies" who couldn't catch a beach ball if their puppy's life depended on it. But something about a life-long athlete just really revs my engine.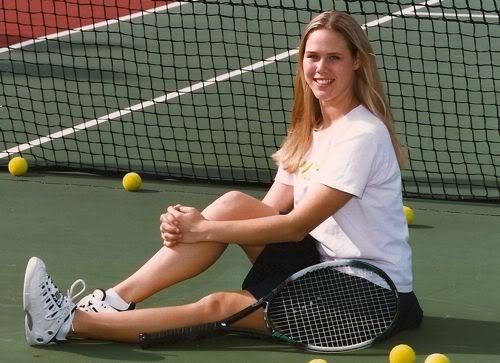 If you want to see how Brett gets Chris's engine revved up, you can check out my campy book trailer HERE. (Hey, I never claimed to be Sophia Coppola!) You can get a taste of the story HERE with an excerpt reading by yours truly. Want more than just a taste? You can get the whole story right HERE!
To celebrate my two fictional coaches making their debut, I've put together a very real Coaching Kit (pictured below). It includes a cute clipboard, a stopwatch, whistle, football, can of tennis balls, The Tennis Lover's Book of Wisdom, and The Game of Love Playbook. And you can win this bundle by simply answering one question: What sport (and its athletes) gets your motor running? Do you have a secret lusting for a man who can swing a (golf) club? A major desire to go ruck with a rugby star? Feverish dreams of playing tonsil hockey with a goalie? Can't stop watching the women's beach volleyball…uniforms? Leave a comment, and one lucky winner (via random drawing) will receive this entire package! Contest ends August 31st, 11:59pm Eastern time.
________________________________
Jeanette Murray is a contemporary romance writer who lives with her sweet & sassy little girl, a dumber-than-expected Goldendoodle and her husband. She loves to post pictures on Facebook, she tweets whatever's on her mind, and she blogs on the regular. Head on over to www.JeanetteMurray.com to find out more about the author, the books, the dog, or all the above.