You might be a Type A if…
 The Brazen Amazon released on May 6th. The hero—Zach Hanson—is a cross between Stephen Jobs and Ryan Gosling. Stephen Jobs in intellect and ambition. Ryan Gosling in looks. One of the traits I assigned to Zach hit close to home. I made him a Type A personality—a proclivity I share.
 What is a Type A personality? It's the name given to a temperament that many people share which forces them to constantly strive to do more, to be more. I'd venture to guess that a very high percentage of successful people are Type A.
 Writers, in particular, seem to display many of the Type A traits. Just to test that theory, let me borrow from Jeff Foxworthy's well-known "You might be a redneck if…" to show "You might be a Type A if…"
 If you walk and talk rapidly, you might be a Type A.
 If you constantly do more than one thing at a time…texting or watching TV while eating, for example…you might be a Type A. (Be honest, if there's nothing to do while eating breakfast, do you read the back of the cereal box?)
 If you suffer from road rage, often yelling or making sarcastic comments about other people's lack of
driving skills, you might be a Type A.
 If you tend to finish things like exams before other people, you might be a Type A.
 If you show up to appointments or turn in projects on deadline early, you might be a Type A.
 If you get impatient when you have to wait, especially when that waiting is in a slow-moving line, you might be a Type A.
 If you "talk with your hands," you might be a Type A.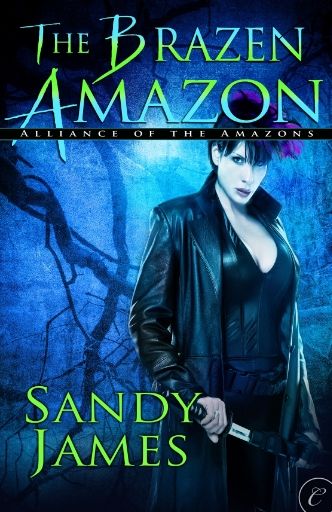 And if you feel "lost" when you have nothing to do, you might be a Type A.
 Did any of those sound familiar? Hit a little too close for your comfort? Being a Type A isn't a BAD thing. But we—and I say we because I exhibit every single trait I listed—should be aware that keeping such a high level of activity and stress can take a toll. The most important word that should be introduced into our vocabulary is "relax."
 Why? Because repeated exposure to high stress isn't good for a person—either physically or psychologically. A person can only push herself so long before her engine runs out of gas. So be kind to yourself if you're a Type A. Learn to enjoy your success, and take some time to stop and smell the proverbial roses.
 In The Brazen Amazon, Zach Hanson is the prototype for this personality. He's a technology whiz who is constantly looking forward to his next innovation, seldom taking the time to enjoy what he's already achieved. When Gina Himmel—the Air Amazon—literally jumps into his life, Zach will discover that there is life beyond his techno world.
***
About the Author: Sandy lives in a quiet suburb of Indianapolis with her husband of thirty years and is a high school social studies teacher. She and her husband own a small stable of harness racehorses and enjoy spending time at the two Indiana racetracks.
The Alliance of the Amazons urban fantasy series from Carina Press premiered with book 1, The Reluctant Amazon, which was named a USA Today Recommended Read. Book 2, The Impetuous Amazon, has been an All Romance Ebooks Bestseller. The Brazen Amazon, book 3, debuted May 6, 2013. The series concludes with The Volatile Amazon in September.
 ***
The Brazen Amazon Blurb: Zach Hanson is a tech wizard, capable of creating and improving gadgets—including remote nuclear warhead launchers. But he's always known that he's destined for something more, something greater, something…supernatural.
Powerful Air Amazon Gina Himmel is one of four sisters called to protect the world from those who would do it harm. Demigods in league with an Ancient have been taking over the bodies of leaders in the military and technological sectors, and Gina is sent to San Francisco to watch over Zach.
Under Gina's protection, Zach is introduced to a world of ancient deities, rogue gods and the bold, brazen Amazons who keep humanity safe. Amidst the whirlwind of battle, Zach and Gina discover a love that could give them the power to save the world…or destroy it.